Type Image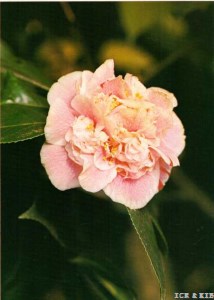 Chosen by wangzhonglang
Id:ICR-19863
Country:Japan
Year Published/Registered:1972
Cultivar Type:For Ornamental
AGM Type:
Scientific Name:Camellia japonica 'Tsukumo-jishi'
Species/Combination:C. japonica
Chinese Name:津云狮子
Japanese Name:津雲獅子 つくもじし
Meaning:Tsukumo Lion
Synonym:
津云狮子 蔡福贵,2005,世界茶花专辑,p.89. No.188.图161.
» English Description
Encyclopedia of Camellias in Colour, vol.I, 1972, p.364: Medium to large, full, peony form to anemone, pink with white edges and rare red streaks, sim­ilar to Hikarugenji but softer colours. The centre consists of stamens formed into fascicles of small petaloids which produce much honey. Late flowering. Leaves deep green, broad oval, margins coarsely serrate. Originated in Japan from the collection of Kurihara, Yoshifumi, Shimo-shakuji'i, Nerima-ku, Tokyo, Japan. Released by Kazutoshi Ōhira around 1970. For illustrations see: Yokoyama, 1975, Gendai Tsub­aki Meikan, p.171; Seibundō Shinkōsha, 1980, Senchinshū, p.99. 'Tsukumo' is a place name in Okayama Prefecture.
» Chinese Description
朱國棟、蔡燦玉,2011. 《台灣茶花族譜》,p.270. 1972,日本东京。牡丹〜狮头形、淡粉红底、红色脉纹鲜明、少量红条斑、白色覆轮、大轮、花期1〜3月、树性直立、长势强。津云狮子ー蔡福贵,2005,世界茶花专辑,p.89. No.188.图161.