Type Image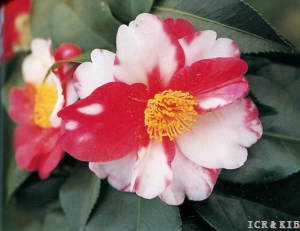 Chosen by wangzhonglang
Id:ICR-20127
Country:Japan
Year Published/Registered:1975
Cultivar Type:For Ornamental
AGM Type:
Scientific Name:Camellia rusticana 'Utage'
Species/Combination:C. rusticana
Chinese Name:宴
Japanese Name:宴 うたげ
Meaning:Banquet
Synonym:
宴 蔡福贵,2005,世界茶花专辑,p.155, No.23.图424.
» English Description
Yokoyama, 1975, Gendai Tsubaki Meikan, p.74 illustration and description: Red ground with large white spots or moired pattern; medium size, semi-double with petals in two rows, large, cordate, overlapping. Leaves deep green, broad-elliptic, apex acuminate, recurved, margins serrate, undulate, petioles hirsute. Originated in Toyama Prefecture, Japan by Makino, Kōroku. See pl.389, Encyclopedia of Camellias in Colour, vol.II, 1978, p.161. Seibundō Shinkōsha, 1980 Senchinshū, pp.22, 202. Yokoyama & Kirino, 1989, Nihon no Chinka, p.327.
» Chinese Description
朱國棟、蔡燦玉,2011. 《台灣茶花族譜》,p.272. Utage宴(Banquet)。(C.rusticana)雪茶。1975,日本富山县。富山市民家栽培种选出,竹内実命名发表。半重瓣、平开形、二重轮列、浓红色底、白斑~云斑、散蕊、中轮、花期2~3月、树性横张。宴ー蔡福贵,2005,世界茶花专辑,p.155, No.23.图424.