Type Image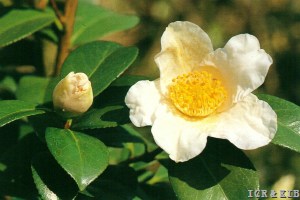 Chosen by wangzhonglang
Id:ICR-20138
Country:Japan
Year Published/Registered:1979
Cultivar Type:For Ornamental
AGM Type:
Scientific Name:Camellia rusticana 'Uzen-kozakura'
Species/Combination:C. rusticana
Chinese Name:羽前小樱
Japanese Name:羽前小桜 うぜんこざくら
Meaning:Pretty Cherry of Uzen
Synonym:
羽前小樱 蔡福贵,2005,世界茶花专辑,p.96. No.226.
» English Description
Seibundō Shinkōsha, 1980, Senchinshū, p.22, colour photo, p.202, description: Very small size, white, tinged with slightest pink, cup-shaped single of 5 irregular petals, oblong, notched; stamens spreading, anthers pale yellow, filaments white. Leaves deep green, lanceolate to round-ovate, apex blunt acute, margins finely serru­late, petioles hirsute. Originated in Yonezawa City, Yamagata Prefecture, Japan. See pp.82, 83, Yokoyama & Kirino, 1989. Nihon no Chinka for colour photo and description. Named and released by Tokuji Ōoka in 1966.
» Chinese Description
朱國棟、蔡燦玉,2011. 《台灣茶花族譜》,p.272. 1979,曰本山形-新潟。米沢市民家栽培种,1966年,大冈德治命名发表。单瓣、杯~平开、白色(极淡粉色调)、花瓣5枚、雪茶状蕊芯、极小轮、花期2~3月、树性横张、长势强。羽前小樱一蔡福贵,2005,世界茶花专辑,p.96. No.226.