Type Image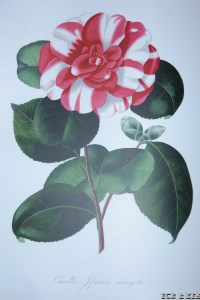 Chosen by Gianmario Motta
Id:ICR-20196
Country:China
Year Published/Registered:1797
Cultivar Type:For Ornamental
AGM Type:
Scientific Name:Camellia japonica 'Variegata'
Species/Combination:C. japonica
Chinese Name:
Japanese Name:
Meaning:
Synonym:
Almiscarada Louriero, 1882, Jornal di Horticultura Pratica, 13:106. Synonym for Variegata, according to da Silva.
Anemoneflora Striata Sinensis Seidel, 1849, Pflanzen Catalog, p.5. Synonym for Variegata.
Anemoniflora Sinensis Harrison ea., 1837, Floricultural Cabinet, vol.7, p.56 as 'Anemoneflora Sinensis' as the 'double striped waratah from China' that is, Variegata.
Anemoniflora var. Sinensis Berlèse, 1837, Monographie, ed.1, p.130, 233 as 'Anemomaeflora var. Sinensis'. Synonym for Variegata.
Anemoniflora Waratah Sinensis Berlèse, 1837, Monographie, ed.1, p.106 as 'Anemonaeflora War­rata Sinensis'. Synonym for Variegata.
38 show +
» English Description
Andrew's Botanist's Repository, 1797, pl.91: This camellia is interesting historically as it was one of the first horticultural cultivars of the Genus Camellia to be introduced into Europe, having came to England in 1792 from China together with Alba Plena and was often referred to as the 'Old Double Striped'. Its colour is rose pink to red, irregularly blotched white, rather than striped and the flower is variable, often being nearer semi-double than full double. Chandler & Booth, 1831, Illustrations and Descriptions of Camellias pl.6: Deep rose madder with broad bands and patches of white, which are themselves streaked with deep rose madder. One of the first camellia to be brought from China, being imported in 1792 by Captain John Corner, on the "Carnatic", East Indiaman, for Gilbert Slater, the ship's principal owner (Farrington, 1999, Catalogue of East India Company Ships' Journals and Logs 1600-1834, p.105, and Journal and Log of "Carnatic" in the British Library, London). The colour is a fine dark rose or red colour, irregularly blotched with white; but in this respect they vary considerably, the early flowers being elegantly variegated, while the later ones are generally plain red. They are from 7.5-10 cm in expansion. The outer petals are each 3.8 cm in diameter, roundish cordate, thick and fleshy at the base, and broad and thin at the points and edges. They are nearly flat and evenly disposed in several rows, laid one above the other; but recurve with age. The centre petals are small and round, frequently arranged in tufts, with a few parcels of stamens inter­mixed with them. Some flowers are as double as a rose, without any staminea being percepti­ble: others, again, are of irregular shape and little more than semi-double. For illustrations see Loddiges, 1819, The Botanical Cabinet, vol.4, t.329; Curtis, 1819, Monograph, pl.2; Edwards Botanical Register, 1816, vol.1, pl.22. Synonyms: 'Variegata Plena', 'Variagata Striata', 'Old Striped', 'Dianthiflora', 'Dianthiflora Striata', 'Rajada', 'Almiscarada', 'Vaucluse', 'Variegata Putosa', 'Variegata' (panaché), 'Variegata Flore Plena Rubra', 'Variegata Vera', 'Plena Varie­gata', 'Variegato', 'Striata Plena', 'Variegato Pleno', 'Carnation Striped', 'Old Double Striped'.