Type Image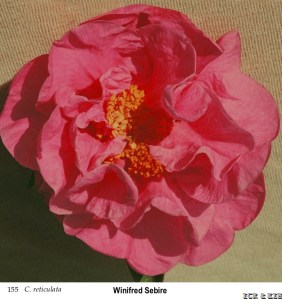 Chosen by wangzhonglang
Id:ICR-20855
Country:Australia
Year Published/Registered:1973
Cultivar Type:For Ornamental
AGM Type:
Scientific Name:Camellia reticulata 'Winifred Sebire'
Species/Combination:C. reticulata
Chinese Name:
Japanese Name:
Meaning:
Synonym:
Weini Shao, Taichong, 1992, The Observations from the Camellia World, No.565, p.69. Chinese synonym for the Australian C.reticulata hybrid Winifred Sebire.
» English Description
ACRS., 1973, Camellia News, No.51, p.36, Reg. No.155: Originated by E.R. Sebire, Wandin North, Victoria, Australia. A seedling of 'Tali Queen' (Dali Cha) which first bloomed 1970. Plant habit is upright, open and vigorous. The deep rose-pink, semi-double to informal double, 15 cm across blooms open in mid-season. Leaves are dark green, 11-12.5 cm long x 5 cm wide with shallow serration. See colour photo, p.4, ACRS., 1977, Camellia News, No.66. Sport: Winifred Sebire Variegated.