Type Image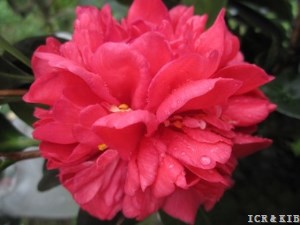 Chosen by wangzhonglang
Id:ICR-21038
Country:China
Year Published/Registered:2012
Cultivar Type:For Ornamental
AGM Type:
Scientific Name:Camellia 'Xiayong Guose'
Species/Combination:C. azalea hybrid
Chinese Name:夏咏国色
Japanese Name:
Meaning:
Synonym:
Xiari Mudan ICS Journal 2011, p.54 with colour photo; Later registered as Xiayong Guose.
» English Description
China Flowers and Horticulture, No.24, 15 Dec. 2012 with colour photo, Regn E.104; Gao Jiyin et al. 2016. Illustrations of the New Camellias Hybrids that Bloom Year-round. P.196.Originated by Palm Landscape Architexture Co. Ltd., China. A cross of C.azalea x Daikagura, first flowered 2010. Peony form flower, medium to large, 8-12cm diameter, 9 large outside petals, 33 inner petals, and a central mass of about 148 small twisted petals. A few stamens. Flowers red with occasional white strips. Leaves dark green, thick coriaceous, edges shallowly serrated. Spreading plant, with dense branching and vigorous growth. Blooms summer to midwinter. Previously published, ICS Journal 2011, p.55 as 'Xiari Mudan'.
» Chinese Description
中国茶花品种登录第104号。《中国花卉园艺》2012年,第24期。由黄万坚、刘信凯、黄万建培育,吴劲章命名。花蕾圆球形,萼片绿色,开花稠密。花朵红色,有时出现白条纹。花径8~12cm,牡丹型。外轮9枚,内轮花瓣33枚,花心有148个扭曲的小花瓣,花瓣间有少量黄色雄蕊。叶片浓绿色,厚革质,叶面光滑,边缘有浅锯齿,主脉支脉非常明显。植株开张,枝叶稠密,生长旺盛。花期6月中旬至12月底。该杂交种由杜鹃红山茶与一个红山茶品种杂交而得。2006年播种,2010年首次开花。该品种不仅具有'花牡丹'花红色、大花、牡丹型