Type Image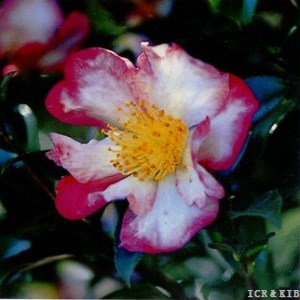 Chosen by wangzhonglang
Id:ICR-21094
Country:United States
Year Published/Registered:1898
Cultivar Type:For Ornamental
Scientific Name:Camellia sasanqua 'Yae-gasumi'
Species/Combination:C. sasanqua
Chinese Name:八重霞
Japanese Name:八重霞 やえがすみ
Meaning:
Synonym:
Bachongsan Gao & Zhuang, 1989, The Camellia in China, p.76, No.570, Colour photo No.306. Orthographic error for Bachongxia.
Bachongxia (Double Rosy Clouds),Gao & Zhuang, 1989. The Camellia in China, p.76, No.570, colour photo No.306, erroneously as 'Bachongsan'. Chinese reading for the Japanese sasanqua Yaegasumi.
Double Mist Yashiroda, 1950, American Camellia Yearbook, p.21. Synonym for Yae-gasumi.
Yae Gasimi Hazlewood & Jessep, 1972, Checklist - Camellia Cultivars from Nursery Catalogues, p.245. Corruption of Japanese name Yae-gasumi.
» English Description
Ashizawa, 1898, Chabaika Taishū: Large size, semi-double, white with pink graduation towards petal edge. Chūgai Nursery Catalogue, 1935: Petals are oblong and irregularly notched. Stamens close grouped, filaments light yellow, anthers dark yellow. Leaves glossy green, elliptic, 5 cm x 2 cm; apex acute, bases cuneate. An upright but weak grower. Early flowering. Wada. 1941, Garden Treasures of Japan, p.32: Semi-double white flushed with red. Very large. Originated in Kantō area, Japan. Imported from Japan by McIl­henny, Avery Island, Louisiana, USA. Corruption of name 'Yae Gasimi'.
» Chinese Description
徐碧玉. 2007,《茶梅》,第44页。原产日本江户,1898年《茶梅花大集》中有记载。花白底,浓红边晕,花瓣7枚左右,内瓣稍立,中型花,单瓣型,花期11~12月;叶长椭圆形;树形直立,长势中强