New book information provided by Mr. LIU Xinkai, English reviewed by Prof. WANG Zhonglang
Since our first book on Four-season Camellia Hybrids had been published in 2016, this kind of new camellia hybrids have been attracted more and more attentions and have become popular gradually in the Camellia World. The cultivation practice in China and other countries has proved that the four-season camellias were a revolution and a powerful supplement to the conventional camellia in the world.
Two important inscriptions were written for the book respectively by the past presidents of International Camellia Society (ICS), prof. Guan Kaiyun and Mrs. Patricia Short together with her husband, Mr. Hebert Short who was a senior editor of International Camellia Journal for many years. The present president of ICS, Prof. Gianmario Motta and the president of Camellia Branch of China Flower Association, Prof. Shi Defa wrote two prefaces for the book respectively. They highly praised and affirmed the emergence of the four-season camellias. Prof. Motta said that the emergence of ever-blooming camellia hybrids was a milestone in ornamental camellias and Prof. Shi hoped the four-season camellias bloom in the urban and rural areas.
In our first book, 323 new camellia cultivars developed independently were introduced, in which 217 new camellia hybrids that bloom year-round, 55 new hybrids from C. amplexicaulis, 20 normal new camellia hybrids and 31 chance cultivars selected from seedlings were involved. Since 2016, after six years of unremitting efforts and extensive cooperation, 441 new camellia cultivars have been bred out. Among them, 328 new hybrids that bloom year-round were included, including 145 new F1 hybrids of C. azalea and 183 backcross F2 hybrids of C. azalea which have longer blooming period. Besides above cultivars, 49 new hybrids of C. amplexicaulis were achieved which trees are tall and bloom in winter to spring, Moreover, 19 normal new camellia hybrids which had special flower characteristics and 45 chance seedlings were also included in this book.
In order to give readers an in-depth understanding of these new cultivars, this book combines color photos to describe and summarize the new cultivars in detail. We hope readers enjoy the book and look forward to your feedback.
This book has more than 600 pages, and the chief editors are Mr. Liu Xinkai, Mr. Zhong Naisheng, Mr. Ke Huan, and Ms. Wu Yanfang, all of whom have been experts in camellia breeding for many years. Prof. Gao Jiyin is the chief technical expert of this book.
The book is priced at RMB 495.00.
Contacts: Mr. Liu Xinkai, lxk1000@163.com and Mr. Gao Jiyin, y25006@163.com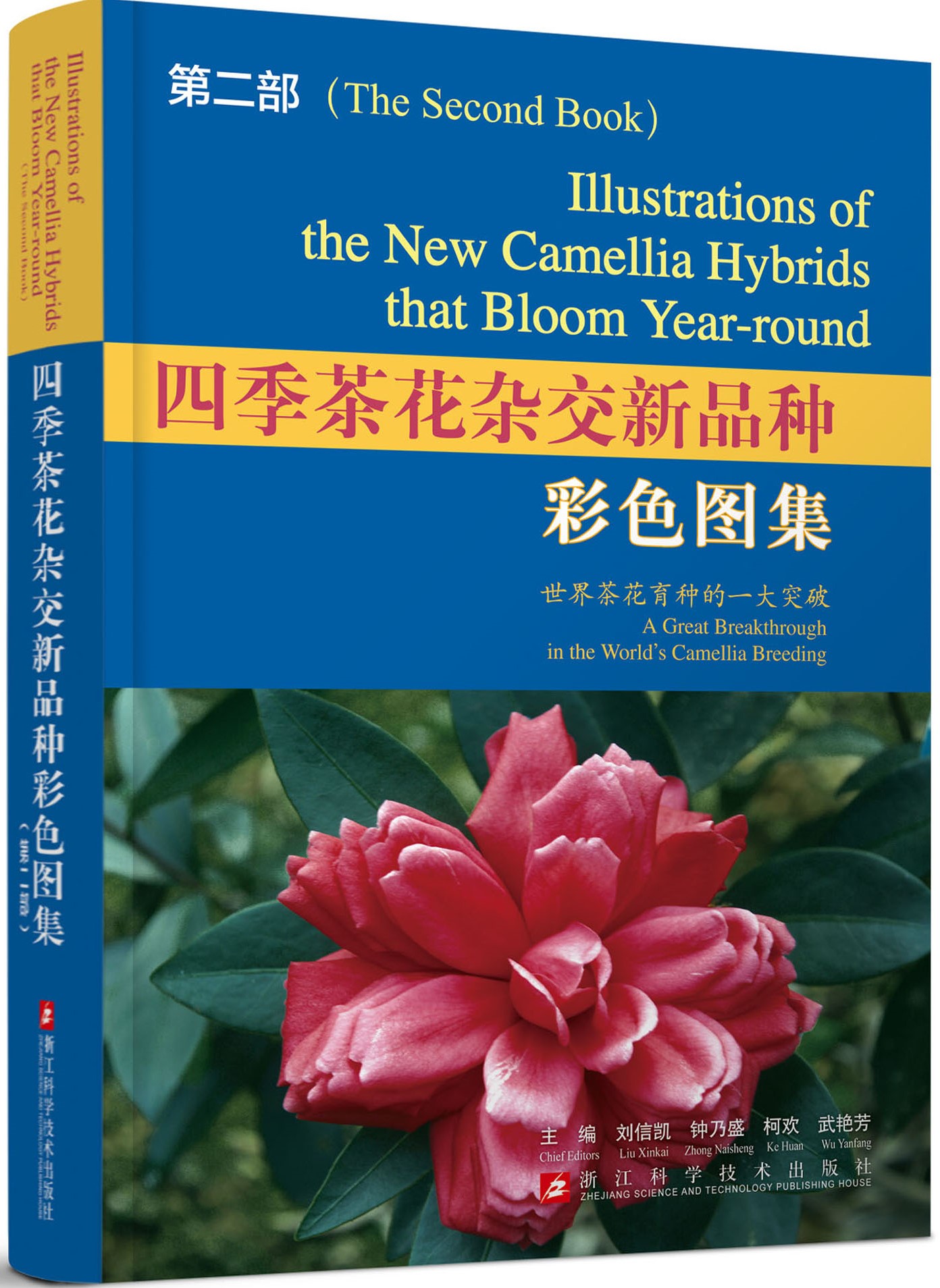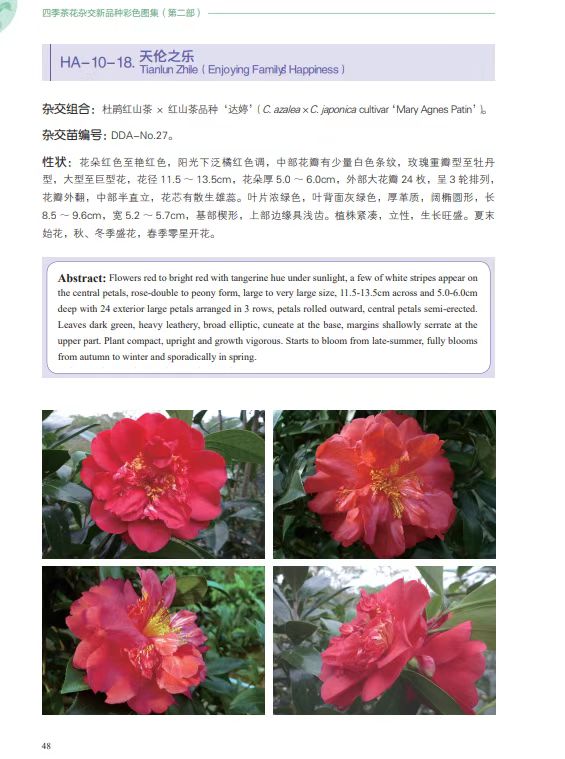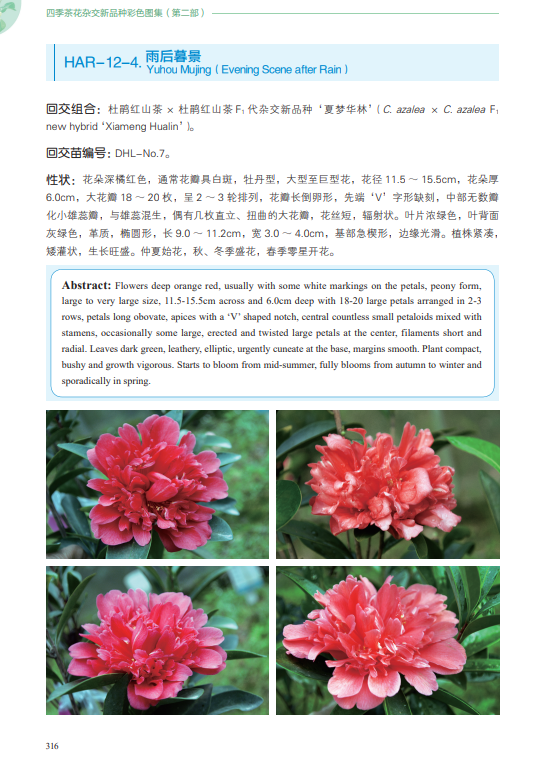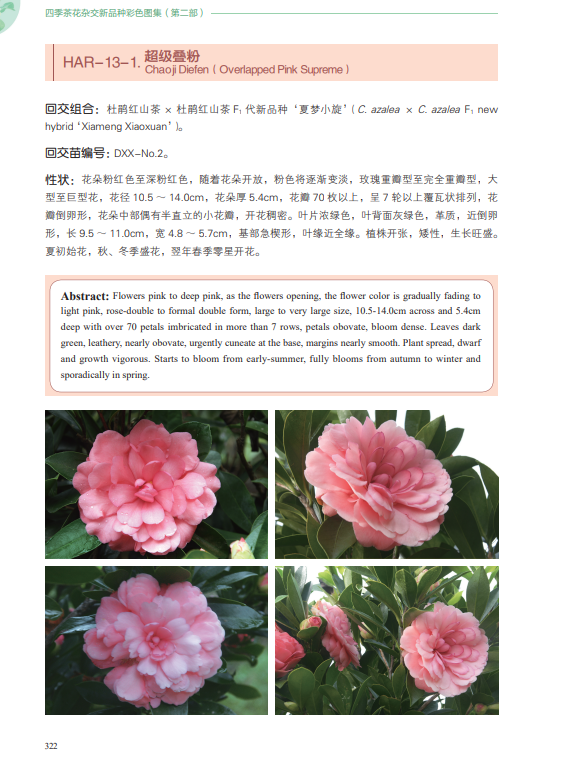 ---