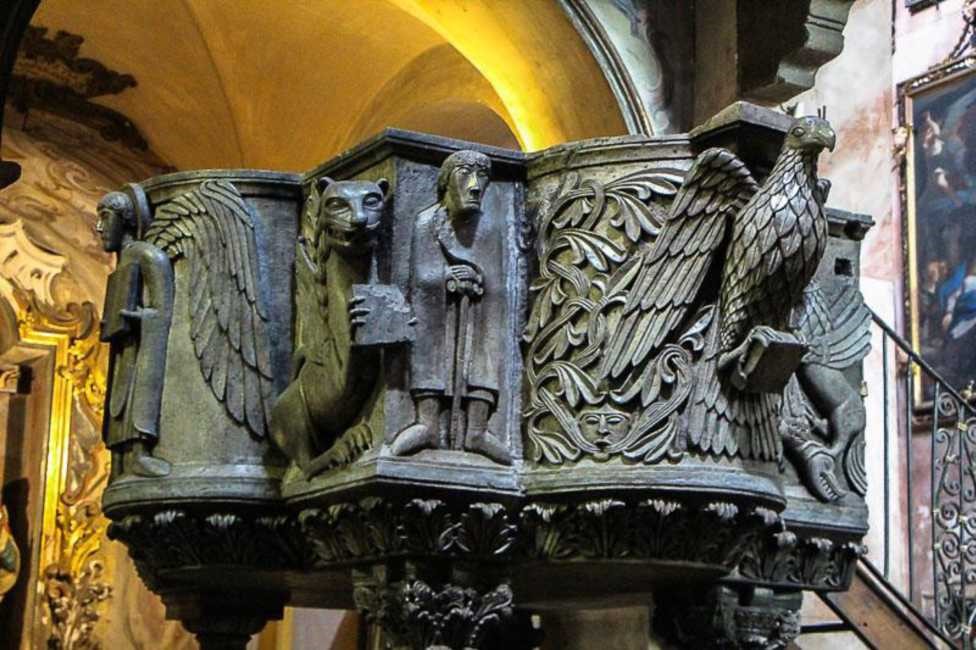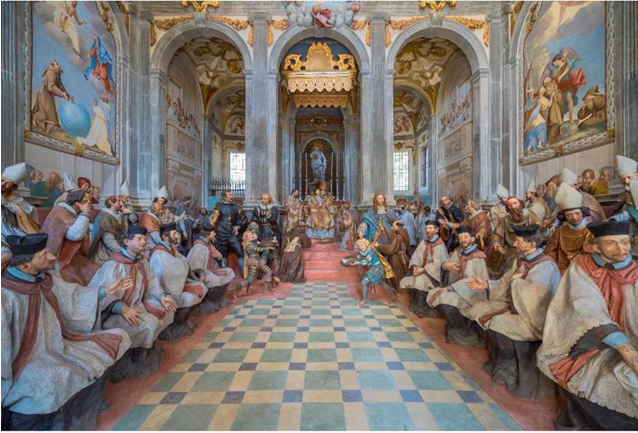 Locarno is a Swiss municipality, located on the northern shore of Lake Maggiore. It has a population of about 16,000. It is known for hosting the Locarno International Film Festival, which takes place in August. Like many towns on lakes, the history of Locarno dates to Early Bronze age. After being part of Milano Duchy, Locarno joined Switzerland in 1503. Thanks to its mild climate, Locarno has today one of the largest Camellia gardens in Europe.
March 30th, Thursday: Locarno
(https://en.wikipedia.org/wiki/Locarno)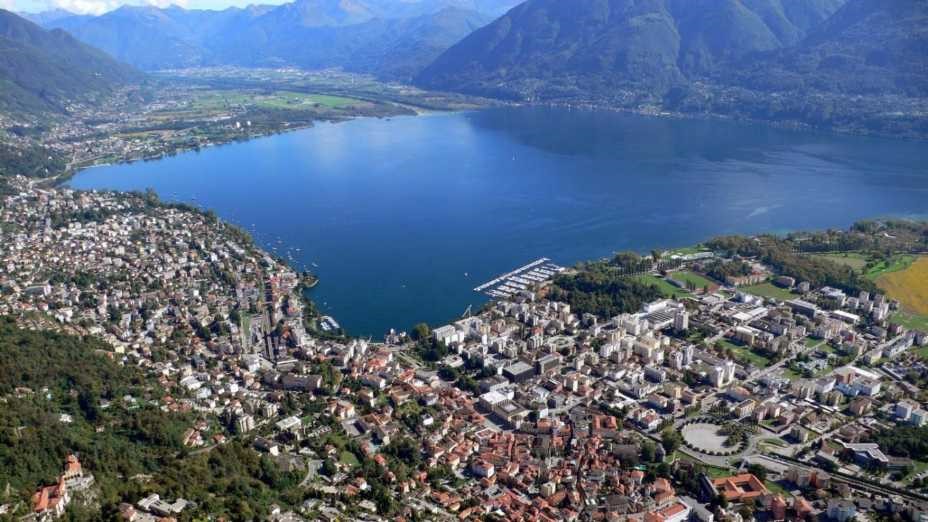 Figure 7Locarno view by Ozonski, CCBY3.0
Locarno City Camellia Park
(https://internationalcamellia.org/en-us/europe-gardens-of- excellence/locarno-city-camellia-park)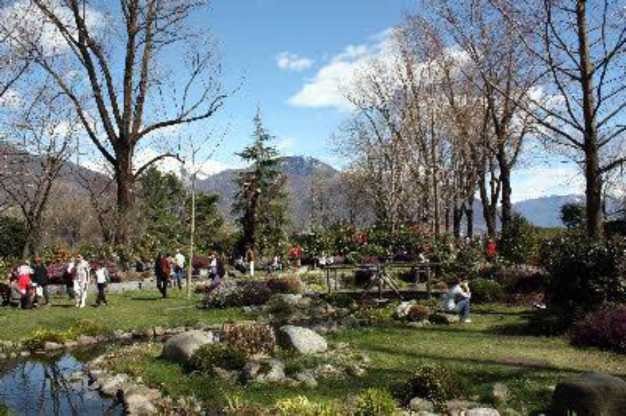 Figure 8 Locarno City Camellia Park
The Camellia Park was inaugurated in Locarno in 2005 during the International Camellia Society World Congress (ICS). In 1975 Works began in 2004, with 5,000 square meters and 320 camellias, with the support of the late Mary Caroni, ICS director for Switzerland, in subsequent years, the park, with Daniele Marcacci as Director, continued to grow. In 2010 was awarded as International Camellia Garden of Excellence. In 2022, a new area was added, with
new cultivars, such as ever- blooming Camellia changii hybrids. Currently, the Park is on an area of 1,5 hectares and hosts 1,476 plants with 1,100 varieties and species. Every year, the park hosts the camellia show, with many thousands of visitors.
Botanical garden of Gambarogno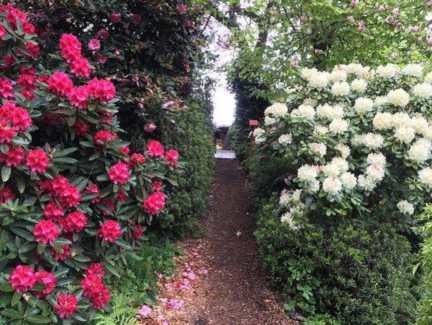 Figure 9 Rhododendrons in Gambarogno
The late Otto Eisenhut, a famous nurseryman, cultivated here thousands of beautiful and colorful flowering plants as 950 camellia cultivars, 450 magnolias, and azaleas, peonies and rhododendron on a 2 hectares area. In addition, ivy, pines, juniper, and other rare European and exotic conifers grow here. Since year 2000 the park became by donation "Parco Botanico del Gambarogno", which to ensure the future.
March 31: from Locarno to Como Lake
The garden of Sir Peter Smithers in Vico Morcote (Switzerland)
Figure 10 Piazza grande in Locarno https://www. crossinvest-locarno. ch/
Sir Peter Smithers [1913-2006] laid out several gardens, notably Colebrook House in Winchester in the 1950s and 60s, and finally from 1970 Vico Morcote, an acre of a steep abandoned vineyard.

He & his wife commissioned a new house inspired by Japanese design and without steps in or out. He built the greenhouse attached to his study, so he could visit it even in his pajamas! He laid out exotic plants suited to the climate and soil that would mature into a self-maintaining ecosystem.

Figure 10 Piazza grande in Locarno

https://www. crossinvest-locarno. ch/
He bought from Exbury Lionel Rothschild's collection of Nerines when it was being dispersed in 1974, using it as the basis for another successful breeding program (the collection has now gone back to Exbury where it is being continued by Lionel's grandson Nicholas de Rothschild).
Vico Morcote eventually contained some 10,000 species and varieties, including world-class collections of magnolias, lilies, wisteria and camellias. His memoirs, Adventures of a Gardener, (1995), were published by the RHS and are a classic of gardening history, full of his own photographs and charming anecdotes.
Locarno Public Park
In the center of Locarno, close to Piazza Grande, centennial camellias thrive in large beds, perfectly visible by visitors. They include rare ancient varieties, such as 'Bella di Etruria' and 'Il Garofano', both from Italy and registered in 1851. The public park is at a walking distance from the hotel.
Villa Carlotta in Tremezzo, Como Lake, Italy
(https://www.villacarlotta.it/)
Villa Carlotta is a villa and botanical garden in Tremezzo, on Como Lake. Nowadays, the villa is a museum, whose collection includes works by sculptors such as Antonio Canova, a top neoclassic sculptor (1757-1822) and Bertel Thorvaldsen (1770-1844) a great competitor of Canova; painters
such as Francesco Hayez (1791-1882), a leading artist of Romanticism in mid-19th-century Milan, and Francesco Migliara (1785-1837), a nobleman painting views and historical subjects. The villa, whose architect is unknown, was completed in 1745, and had several ownerships. First owners were the Milanese noble family Clerici, then the Sommariva, who in 1843 sold the property to the prince Sachsen Meiningen. After world war I, the villa became a public property, which in 1927 was entrusted to the care of the foundation "Ente Villa Carlotta", still responsible for the villa.
Figure 12 By Jean-Christophe BENOIST - Own work, CC BY 3.0,
The park
The botanical garden covers about 8 hectares (20 acres) and includes different sections. Immediately around the villa, towards the lake, the Italian garden with cut hedges and pergolas with orange and camellia trees. The rhododendron and 150 varieties of azalea spread up the slope. The property is also home to cedars, palms, redwoods, plane trees and other exotic plants. there is also a bamboo garden, covering 3,000 square meters which is home to over 25 different bamboo species.
The Villa
The villa includes three floors (two open to the public) with the lower floor dedicated to sculptures. The most famous is Eros and Psyche, a marble copy by Adamo Tadolini, taken from the original model that Antonio Canova made for the Hermitage Museum, St. Petersburg. A second masterpiece is the original plaster model of The Muse Terpsichore by Antonio Canova. The sculpture was commissioned by Sommariva in 1811. An original sculpture is Palamedes by Antonio Canova, which in 1805, when it was still in the Canova's atelier in Rome, was broken by a flood. Canova personally restored it, between 1806 and 1808.A monumental work is the Entrance of Alexander the Great in Babylonia by Bertel Thorvaldsen. This work was originally made in stucco for Napoleon's visit to Quirinale Palace in Rome,and was so admired that Napoleon ordered a marble replica for the Pantheon in Paris.
Because of Napoleon's fall thework to stopped, until in 1818 Sommariva decided to complete it.
The 33 marble slabs of the frieze arrived in the villa between 1818 and 1828. The last two characters at the end of the frieze are a self-portrait of Thorvaldsen and a portrait of Sommariva.

Figure 14 The sculpture gallery in Villa Carlotta
---