How to Create Account to become a registered user
For a common anonymous visitor to DICR, you can not upload photos to the online database, only those Registered Users or Super-Users are permited to upload photos.
After becoming a registered user, the database will support more features, such as sharing your own camellia photos with copyright, owning your own album, commenting and suggesting on the international camellia database.
You are encouraged to upload camellia photos, not only camellia flowers, but also leaves, young shoots, flower buds, leaf buds, trunk, bark, whole plants, camellia growing habitat or environment. Close up photos on filaments, ovaries, styles, stigmas of camellia flowers are also appreciated to upload to the DICR. Also, tea and camellia oil related photos are welcome as well.

Only camellia related photos are allowed to upload!
Any other photos which are no relationship to Camellias, such as animal, naked body, building, clothes etc. are prohibited to upload to the DICR.
If a user uploaded such kind of photos (no related to Camellias), then he will receive warning message from the manager. Please follow above provisions conscientiously. In case of any breach, the manager has rights to rectify and stop it.
These kinds of users might be terminated FOREVER their account for the DICR.
---
DICR is also capable of changing 7 languages, and you can change the website language by clicking on the words next to the 🌏︎ logo, as shown in Figure 1.

Fig. 1 Changing languages in DICR
If you need to register an account with the DICR, click the 'Create Account' button in the upper right corner of the main menu to enter the window as shown in Figure 2.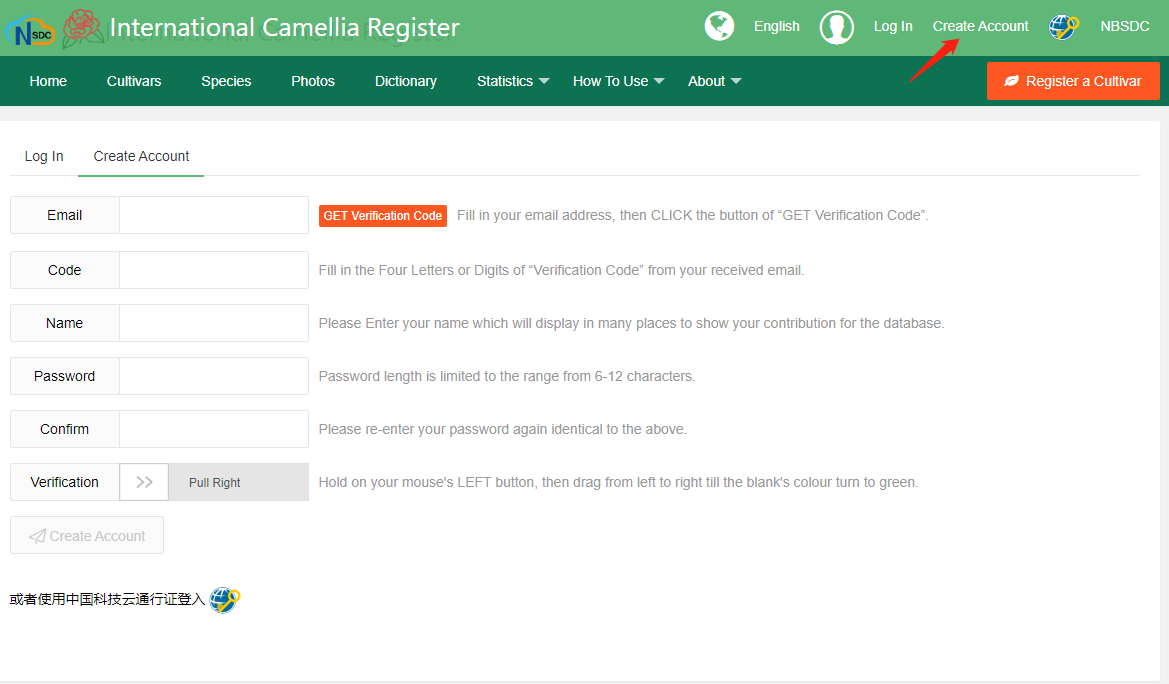 Fig. 2The page of Create Account.
①. Fill in your e-mail address in the 1st line Email, then please click GET Verification Code button, the system will automatically send you a verification code to your e-mail address.
Check your e-mail, and you will receive your Verification Code in four characters. Please these Four characters in the 2nd line Verification Code.
Please Enter your name in the 3rd line Your Name which will display in many places in the database to show your contributions for the DICR.
Please enter your password (Password length is limited to the range from 6-12 characters) in the 4th Line and re-enter your password (identical to the above) in the 5th Line. To make sure you can input and remember your password correctly.
In the 6th ,, please hold your mouse's Left button, and drag from left to right until it says Success! in green to make sure it was proceeded by human beings not machine.(Fig. 3)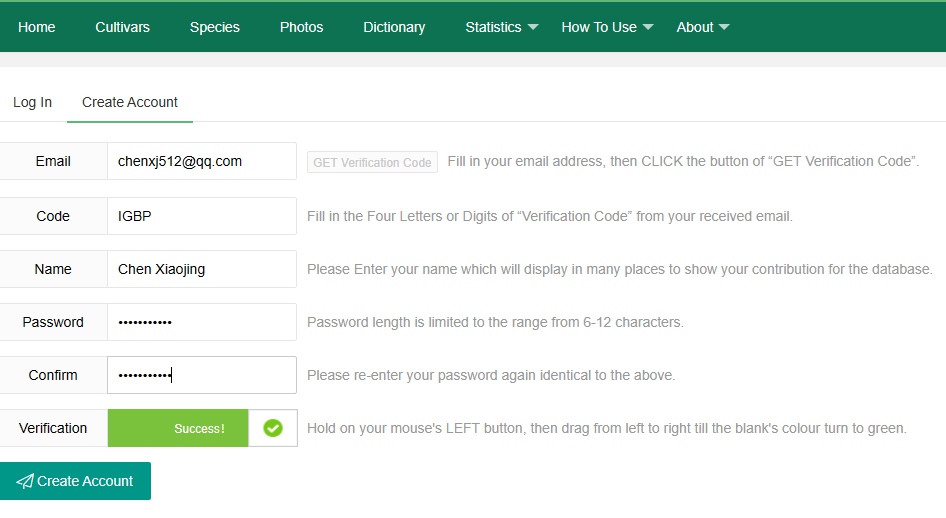 Fig. 3 Drag from left to right until it says Success.
Click CREATE ACCOUNT button. If the information meets the requirements, a window as shown in Figure 4 will appear, prompting you that the registration is successful.

Fig. 4 Create Account Success.
Now you have become a registered User, you can have the right to upload photos and manage your photos in your Personal Albums.
See link for details click on the link:
🔗How to upload one photo or Batch upload many photos? (iflora.cn)
🔗How to manage your photos? (iflora.cn)
---
Next link:🔗How to logn in?(iflora.cn)
To return the table of contents ,please click:🔗Registered User's Guide Table of Contents For the DICR ,2023 (iflora.cn)
---