Type Image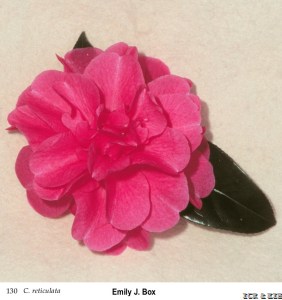 Chosen by wangzhonglang
Id:ICR-4828
Country:Australia
Year Published/Registered:1970
Cultivar Type:For Ornamental
AGM Type:
Scientific Name:Camellia reticulata 'Emily J. Box'
Species/Combination:C. reticulata
Chinese Name:珠宝盒
Japanese Name:
Meaning:
Synonym:
Emily Box BobWines Nursery Catalogue,1985-1986, p.5. Abbreviation for Emily J. Box.
» English Description
ACRS, 1970, Camellia News, No.40, p.27, Reg. No.130: Originated by Mr & Mrs F.N. Spencer, Cheltenham, Victoria, Australia. A chance seedling from a wild C.reticulata that first flowered in 1969. Plant is very vigorous and upright and produces 15 cm diameter x 7.5 cm deep, rose coloured, early flowers. These are semi-double with 15 crimped and fluted petals. The dark green, glossy, reticulate leaves are 9 cm long x 5 cm wide with fine serrations. Abbreviation: 'Emily Box'.
» Chinese Description
朱國棟、蔡燦玉,2011. 《台灣茶花族譜》 p.88. Emily J. Box 珠宝盒(C. reticulata)云南茶。1970,澳大利亚 Victoria,Cheltenham,Mr & MrsF.N. Spencer培育选出。C. reticulata (野生云南茶)自然实生种。初花1969年。半重瓣、紫红、巨大(15 x 7.5cm)、波浪瓣约15枚、瓣端凹缺、花期12月、树性直立、长势强。缩写 名•• Emily Box。花名:人名(艾米莉•巴克斯)。Emily J. Box (珠宝盒)一茶花林目录,1992-2006, p.9/28, No.644.