Type Image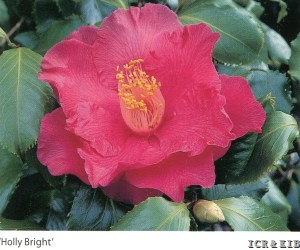 Chosen by wangzhonglang
Id:ICR-7667
Country:United States
Year Published/Registered:1985
Cultivar Type:For Ornamental
AGM Type:
Scientific Name:Camellia japonica 'Holly Bright'
Species/Combination:C. japonica
Chinese Name:冬青之光
Japanese Name:
Meaning:
Synonym:
Zhouye Qihua Gao, Jiyin, Ltr, 25 June 1990. Chinese synonym for the USA C.japonica Holly Bright.
冬青之光 茶花林目录,1992-2006, p. 12/28, No.17.
侯利布莱特 新竹市茶花产销斑目录,2002-2006, p.24,H13.
皱叶奇花 高继银、苏玉华、胡羡聪,2007. 《国内外茶花名种识别与欣赏》,第117页。
» English Description
Nuccio's Nurseries Catalogue, 1985-1986, p.8: Large semi-double. Glossy salmon red. Petals creped. Plant compact, upright and bushy with unique, crinkled, holly-like foliage. Originated in USA by Nuccio's Nurseries, Altadena, California. The 5 year old seedling first bloomed 1981. Average flower size is 11 cm wide. Growth is dense and medium in rate. American Camellia Yearbook, 1986, Reg. No.2025. Chinese synonym: 'Zhouye Qihua'.
» Chinese Description
朱國棟、蔡燦玉,2011. 《台灣茶花族譜》,p.127. Holly Bright 冬青之光(C. japonica)红山茶。1985,美国加州Altadena,Nuccio种苗园。5年实生苗,初花1981年。半重瓣〜松牡丹、鲜橙红、花瓣小波浪皱折、大轮(11〜12 x 4〜4.5cm)、1~2月,树性直立、浓密、灌木丛状、长势中等。独特的皱折卷缩叶片。Holly Bright (冬青之光)一茶花林目录,1992-2006, p. 12/28, No.17. Holly Bright (侯利布莱特)—新竹市茶花产销斑目录,2002-2006, p.24,H13. Holly Bright (皱叶奇花)一高继银、苏玉华、胡羡聪,2007. 《国内外茶花名种识别与欣赏》,第117页。侯利.布萊特,Holly Bright(C. japonica),陈丽惠2013年《山茶花谱台湾情》第213页,红、半重瓣~牡丹型、大輪、中花,1986年美國發表。