Type Image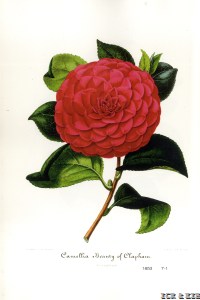 Chosen by Gianmario Motta
Id:ICR-1212
Country:United Kingdom
Year Published/Registered:1853
Cultivar Type:For Ornamental
AGM Type:
Scientific Name:Camellia japonica 'Beauty of Clapham'
Species/Combination:C. japonica
Chinese Name:
Japanese Name:
Meaning:
Synonym:
Beauti of Clapham Jean Verschaffelt, 1876-1877 Catlalogue No.19, p.54. Orthographic variant for Beauty of Clapham.
» English Description
Verschaffelt 1853, Nouvelle Iconographie, Book VII, pl.I: As its name indicates, this variety was recently obtained from seed in England. It is remarkable for the uni­form, vivid, cherry carmine colouring and the mathmatical regularity of imbrication of its numerous petals of two forms. The exterior are rounded, fully emarginate at the apex, the oth­ers at the centre are acute-apiculate. Orthographic error: 'Beauti of Clapham'.