Type Image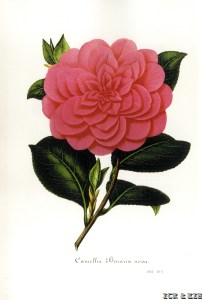 Chosen by Gianmario Motta
Id:ICR-1344
Country:Italy
Year Published/Registered:1847
Cultivar Type:For Ornamental
AGM Type:
Scientific Name:Camellia japonica 'Benaria'
Species/Combination:C. japonica
Chinese Name:
Japanese Name:
Meaning:
Synonym:
Benaria Nova Verscheffelt, 1854, Nouvelle Iconographie, Book X, pl.III. Synonym for Benaria.
» English Description
Verschaffelt Catalogue, 1847-1848, p.54. No description. Large rose coloured, tiered, formal double with petals decreasing in size to the centre, with a few faint, white stripes on the petals. See pl.III, Book X, Verschaffelt, 1854, Nouvelle Iconographie as 'Benaria Nova'. Originated in Italy.