Type Image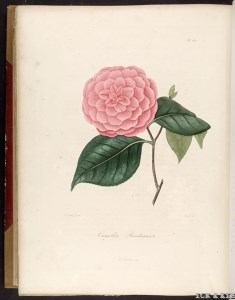 Chosen by Gianmario Motta
Id:ICR-1870
Country:Italy
Year Published/Registered:1843
Cultivar Type:For Ornamental
AGM Type:
Scientific Name:Camellia japonica 'Bradamante'
Species/Combination:C. japonica
Chinese Name:
Japanese Name:
Meaning:
Synonym:
Bradamanthe van Geert Catalogue, 1845. Orthographic variant for Bradamante.
Bradamanti Louis Leroy, 1868, Catalogue, p.122. Orthographic variant for Bradamante
Bradmantii Hazlewood & Jessep, 1972, Checklist - Camellia Cultivars from Nursery Catalogues, p.28. Orthographic error for Bradamante.
» English Description
Berlèse, 1843, Iconographie, vol.3, pl.287, as 'Bradamanti'; Burdin Maggiore & Co., 1849-1850, Catalogue General: Large bright cerise red with white splashes. Imbricated to first order. Luzzatti, 1851, Collezione di Camelie, p.8: The flower is about 11 cm across, often more, and is a regular rose form, full, and perfectly imbricated to the circumference. The colour is a cherry red to clear carmine with nuances of delicate rose. The petals are in 9-10 rows, wide, rounded and notched, thin, close set, veined a deep red, sometimes with stripes of white at the centre. Orthographic variants: 'Bradamanthe', 'Bradmantii', 'Bradamanti'. Originated by Mariani, Florence, Italy.