Type Image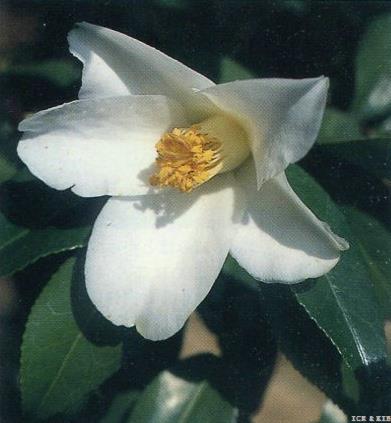 Chosen by wangzhonglang
Id:ICR-2726
Country:Japan
Year Published/Registered:1859
Cultivar Type:For Ornamental
AGM Type:
Scientific Name:Camellia japonica 'Chōchidori'
Species/Combination:C. japonica
Chinese Name:
Japanese Name:蝶千鳥 ちょうちどり
Meaning:Butterfly plover
Synonym:
Asachidori Ashizawa, 1898, Chabaika Taishu.Different reading for the C.sasanqua Chōchidori.
Cho-chi-deri Fendig, 1953, American Camellia Catalogue. Corruption of the Japanese name Chōchidori.
Choh-chidori Andoh, 1971, Tsubaki, Meika no Shōkai to Saibai, p.217, pl.83.Different reading for Chōchidori.
Cyōchidori Satō, 1975, Chūbu no Tsubaki.Different reading for Chōchidori.
» English Description
Kasuya, Kamegorō, 1859, Tsubaki Irohanayose Irotsuki, in the section on new cultivars; Itō, Ko'emon, 1879, Chinka Shū: White. Medium size, single, mag­nolia form. There are many Japanese camellia books which contain colour plates of this camel­lia beginning with Adachi, 1960, Camellia. Its Appreciation and Artistic Arrangements where 'Chōchidori' is shown in four flower arrangements on pp.163, 171, 189, 211. It is also illustrated in Tuyama, 1966, Camellia Cultivars of Japan, pl.57 & p.102, and 1968, Camellias of Japan, pl.86, description, p.6; Encyclopedia of Camellias in Colour, vol.I, 1972, pl.64, p.58 & p.300; Seibundō Shinkōsha, 1979, Senchinshū, p.97 & p.231: Flower, pure white, slender, normal petals, 6-8, arcuate but margins incurved, apex slightly outcurved, channelled. Staminal tube simple, tending to be irregular, opened at the apex. Late flowering. Leaves, narrowly elliptic, gradually undulate, thin in texture. Different readings: 'Chohchidori', 'Cyōchidori'. An old variety from the Edo period. Originated in Kantō, Japan.