Type Image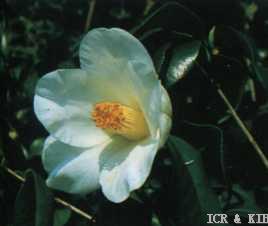 Chosen by wangzhonglang
Id:ICR-7602
Country:Japan
Year Published/Registered:1931
Cultivar Type:For Ornamental
AGM Type:
Scientific Name:Camellia japonica 'Hitomaro'
Species/Combination:C. japonica
Chinese Name:
Japanese Name:人麿 ひとまろ
Meaning:
Synonym:
Hitomaru Vanderbilt, 1940, Camellia Research, p.4. Synonym for for the sasanqua Hitomaro.
Tsumaori-gasa-shibori Synonym for C.sasanqua Hitomaro.
» English Description
Yoshida, Shigekuro, Hōka'en, 1931, Tsubaki Meikan; Satō, 1975, Chūbu no Tsubaki, p.106 colour photo: A large, 10 cm across, white single with 5-6 large, rounded petals, creped and wrinkled at the apex. A compact, central stamen column with brownish yellow anthers and white filaments, united in lower third of length. Mid-season to very late blooming. Yokoyama & Kirino, 1989, Nihon no Chinka, p.47, colour photo. Origi­nated in the Chūbu District, Japan.