Type Image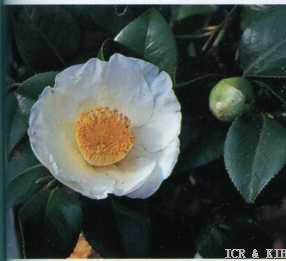 Chosen by wangzhonglang
Id:ICR-7765
Country:Japan
Year Published/Registered:1969
Cultivar Type:For Ornamental
AGM Type:
Scientific Name:Camellia japonica 'Honnami'
Species/Combination:C. japonica
Chinese Name:
Japanese Name:本阿弥 ほんあみ
Meaning:Personal name
Synonym:
Hon'ami Different reading for Honnami.
» English Description
Satō, 1969, Chūbu Tsubaki Kyōkai; Tsubaki Meikan; Ency­clopedia of Camellias in Colour, vol.I, 1972, pl.80, p.63, description, p.303; Satō, 1975, Chūbu no Tsubaki, p.47: White, campanulate single of 5-6 petals with apices rounded, small to medium size. Stamens spreading cylindrical, 110-120, filaments white. Medium size. Blooms early to mid-season. Leaves medium size, wide-oval to round, thick, becoming concave, dark green on a plant with an upright, dense habit. Said to be like Shūfūraku but leaves different. Originated in the Chūbu District, Japan. See: Seibundō Shinkōsha, 1979, Senchinshū, p.247. The Kansai Kamohonnami is sometimes confused with this variety but is a different cultivar. Different reading 'Hon'ami'. Nippon Tsubaki - Sasanqua Meikan, 1998, p.242 with colour photo; English translation p.170. An old tree, estimated at 270 years of age survives in Komono Town, Mi'e Prefecture, and appeared in Owari Tsubaki Banzuke in 1941.