Type Image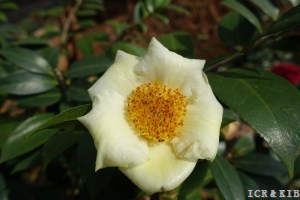 Chosen by wangzhonglang
Id:ICR-7936
Country:United States
Year Published/Registered:2007
Cultivar Type:For Ornamental
AGM Type:
Scientific Name:Camellia 'Huangjingxi'
Species/Combination:C. nitidissima hybrid
Chinese Name:黄惊喜
Japanese Name:
Meaning:
Synonym:
Xinhuang Chinese Camellia Culture, 2003, p.252 with colour photo showing a small light yellow single flower. No other details.
新黄 品种'黄惊喜'命名前的暂定名。
» English Description
Gao, Jiyin, 2007, The Identification.. ..Outstanding Camellias, p.283 with colour photo; Originated by John Wang, San Francisco, USA, and introduced into China in 2002. Flowers light yellow, semi-double, medium size, petals broad-round, waved at edges, dense and prominent yellow stamen centre. Leaves dark green, lance shaped, rough surface. Strong spreading growth. Not cold hardy. Flowers mid-season to late.