Type Image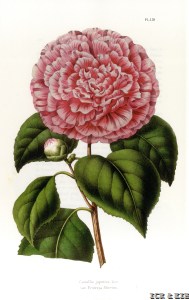 Chosen by Gianmario Motta
Id:ICR-159
Country:China
Year Published/Registered:1841
Cultivar Type:For Ornamental
AGM Type:
Scientific Name:Camellia japonica 'Albertii'
Species/Combination:C. japonica
Chinese Name:亚伯特
Japanese Name:
Meaning:
Synonym:
Albert (Prins)de Jonghe, 1851, Beknopte Handleiding tot het Kweeken von Camellias, p.107. Synonym for Albertii.
Alberto Roda, Fratelli, Catalogue, 1885. Orthographic error for Albertii.
Albertus van Houtte Catalogue, 1844-1845, 18:17; The Florist's Journal, vol.4, 1843; as a synonym for Albertii.
Alburtus (C.japonica), The Gardeners' Chronicle, No.8, Feb.25th, 1843, p.159: Langdon Nursery Catalogue, 1890-1891: Rose striped with white, lilac and pink. Orthographic variant for Albertii.
Chandler's Albertus Floricultural Cabinet, 1843. Synonym for Albertii.
9 show +
» English Description
Paxton, 1841, Magazine of Botany, vol.8, p.54, with colour pl. Introduced by Chandler of Vauxhall Nursery: Flowers perfectly double, outer petals roundish, emarginate, lying somewhat flat, central ones small, partially erect, of various forms, of a whitish or light blush coloured ground, irregularly striped or blotched longitudinally with reddish pink. This sort, sent to Mssrs Chandler of Vauxhall from China, is much esteemed. The flowers are very double, filled up in the centre and containing a combination of colours. It was received a few years ago and first bloomed 1839. The name here adopted was applied by Chandler in honour of HRH Prince Albert. Verschaffelt, 1848, Nouvelle Iconographie, Book I, pl.III as 'Prince Albert'. Although the name 'Prince Albert' was published the same year (1841) by van Houtte; the name 'Albertii' given to it by its owner has priority. Orthographic variants: 'Princeps Albertus', 'Printz Albert', 'Principe Alberto', 'Prince Albert Variegated', 'Prince Albertii', 'Souvenir du Prince Albert', 'Charles Albert', 'Albertus', 'Alberto', 'Prins Albert'. See also colour pl. 'Harrison, 1843, The Floricultural Cabinet, vol.II, p.49. Synonyms: 'Concordia', 'Beautiful', 'Ellen McKinsey', 'Gomez', 'Normandy', 'Prince Albert', 'Albert (Prins)'. Sport: Red Prince Albert.
» Chinese Description
亞伯特(Prince Albert阿伯特王子),Albertii(C. japonica),陈丽惠2013年《山茶花谱台湾情》第190页,深粉、白斑,牡丹型、中輪、中生,1841 年英國發表。
朱國棟、蔡燦玉,2011. 《台灣茶花族譜》,p.11.
Albertii 亚伯特 C.japonica Albertii艾伯特(C.japonica)红山茶。1841,英国。牡丹形、粉红底、红条纹、白条斑、中轮(8〜9 x 4〜4.5cm)、花期1〜2月。此品种由英国Vauxhall种苗园的Chandler 自中国引入,初花1839年;公元1840年,英国Victoria (维多利亚女皇1819-1901),与她的表哥Albert (亚伯特王子)结婚,Chandler将此品种命名发表为'Albertii',象征以亚伯特王子为荣。
同种异名:Prince Albert (阿伯特王子)。
突变种:Red Prince Albert 。