Type Image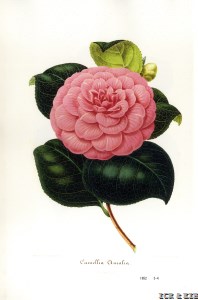 Chosen by Gianmario Motta
Id:ICR-312
Country:Italy
Year Published/Registered:1852
Cultivar Type:For Ornamental
AGM Type:
Scientific Name:Camellia japonica 'Amalia'
Species/Combination:C. japonica
Chinese Name:
Japanese Name:
Meaning:
Synonym:
Amalie Joseph Baumann, 1856, Prix Courant, p.2. Orthographic error for Amalia.
» English Description
Verschaffelt, 1852, Nouvelle Iconographie, Book 3, pl.4: Large blossoms of unusual perfection with rounded, oval petals, decreasing with regularity, from the circumference to the centre, of like form and a transparent pink colour, tinged cerise, and veined a deeper shade with a few white stripes. Orthographic error: 'Amalie'. It is of Italian origin by Negri.