Type Image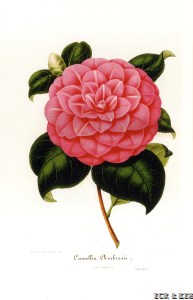 Chosen by Gianmario Motta
Id:ICR-342
Country:United States
Year Published/Registered:1849
Cultivar Type:For Ornamental
AGM Type:
Scientific Name:Camellia japonica 'Ambrosii'
Species/Combination:C. japonica
Chinese Name:
Japanese Name:
Meaning:
Synonym:
Ambriosoli van Houtte, 1859, Catalogue, 77:49. Orthographic error for Ambrosii.
Ambrosil Burnier Catalogue, 1855-1856. Orthographic error for Ambrosii.
Ambrosoli Jean Verschaffelt, 1849-1850, Catalogue, p.44.de Jonghe, 1851, Beknopte Handleiding tot het Kweeken von Camellias, p.109. Orthographic errors for Ambrosii.
» English Description
Verschaffelt, 1849, Catalogue, p.44 as 'Ambrosoli': 1851, Nouvelle Iconographie, Book 8, pl.4: The blossom is a more pleasing pink, regularly imbricated, open. Ordinarily the petals are oval, sublanceolate, full and apiculate; the central ones much smaller: rarely they are rounded, faintly emarginate. Very often a pale pink, longitudinal stripe separates the petal in two. Orthographic errors: 'Ambrosil', 'Ambrosoli', 'Ambriosoli'. Originated in USA and named for Ambroise Verschaffelt.