Type Image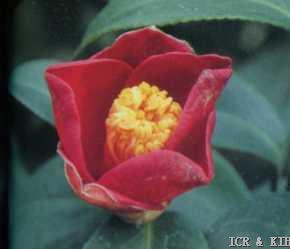 Chosen by wangzhonglang
Id:ICR-2754
Country:Japan
Year Published/Registered:1989
Cultivar Type:For Ornamental
AGM Type:
Scientific Name:Camellia japonica 'Chōshinji'
Species/Combination:C. japonica
Chinese Name:
Japanese Name:聴信寺 ちょうしんじ
Meaning:
Synonym:
Chō Shinji ICS., Apr.1990, Japanese Camellia Cultivar List, p.5.Different reading for Chōshinji.
» English Description
Yokoyama & Kirino, 1989, Nihon no Chinka, p.198, colour photo and description: Small size, billiant, deep red, open, cup-shaped single, with 6 overlap­ping, channelled petals, some margins incurved, and a central stamen cylinder with pinkish filaments, joined for the lower half, and bright yellow anthers. Blooms very early to mid-season. Leaves mid-green, elliptic, apices tapering acuminate, margins serrate. Originated in the Toyama Prefecture, Japan. An old tree thrives in a temple in Fukumitsu Town. Named and released by Takeo Ogawa in 1979. Different reading: 'Chō Shinji'.