Type Image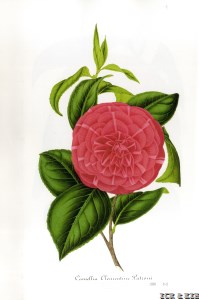 Chosen by Gianmario Motta
Id:ICR-2934
Country:Italy
Year Published/Registered:1858
Cultivar Type:For Ornamental
AGM Type:
Scientific Name:Camellia japonica 'Clementina Patroni'
Species/Combination:C. japonica
Chinese Name:
Japanese Name:
Meaning:
Synonym:
Clementine Patroni Hazlewood & Jessep, 1972, Checklist - Camellia Cultivars from Nursery Cata­logues, p.42. Orthographic error for Clementina Patroni.
» English Description
Medici Spada, 1858, Catalogo nel Giardino a Villa Quiete, p.5. No description. Verschaffelt, 1860, Nouvelle Iconographie, Book VI, pl.III as 'Clementine Patroni': Its blossoms of a medium size, imbricated form, elegantly stelliform, are pink with rounded, ample petals, outspread and intersected at the centre by a broad, pale pink band. Originated in Italy by Ugolini. Orthographic variant: 'Clementine Patroni'.