Type Image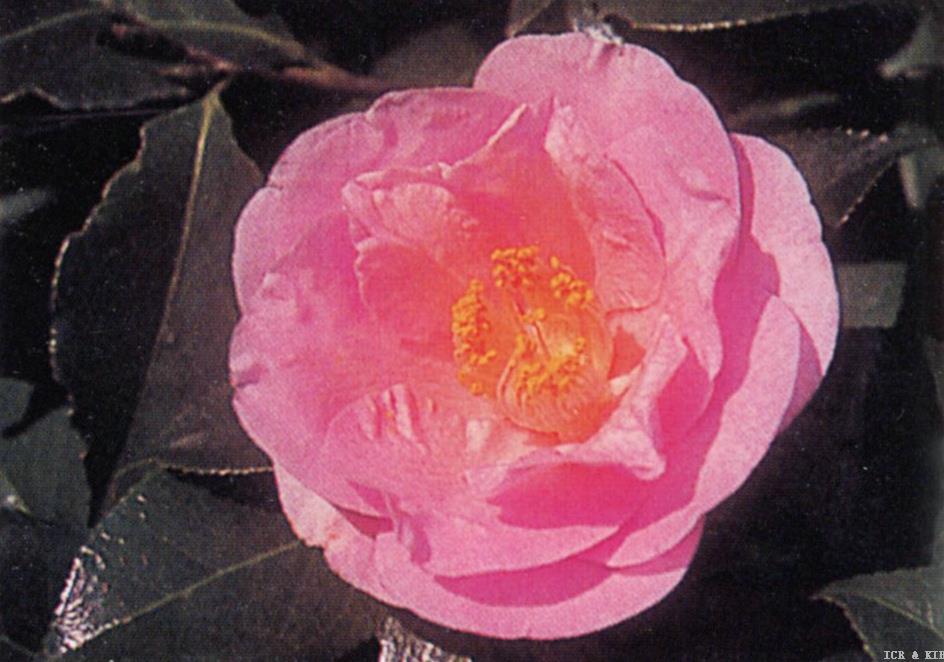 Chosen by wangzhonglang
Id:ICR-5741
Country:Japan
Year Published/Registered:1961
Cultivar Type:For Ornamental
AGM Type:
Scientific Name:Camellia japonica 'Fukumusume'
Species/Combination:C. japonica
Chinese Name:福娘
Japanese Name:福娘 ふくむすめ
Meaning:Fuku'oka Maiden
Synonym:
Huku-musume Watanabe, 1970, Kyōto Engei Kurabu, Tsubaki Tokushū, No.10, p.129.Different reading for Fukumusume.
» English Description
Watanabe, 1961, Kyōto Engei Kurabu, Tsubaki Tokushū, No.2, p.28; Tuyama, 1968, Camellias of Japan, pl.117; Yokoyama et al.1975, Gendai Tsub­aki Meikan, p.201; Seibundō Shinkōsha,1979, Senchinshū, p.131: Leaves dark green, ovoid, thick, strongly serrate, shortly acuminate. Flowers pink, (Spirea red 025/3) semi-double, widely cup-shaped, inner petals somewhat irregular. Stamen cluster widens at apex, sometimes divides into 2-3 groups, filaments white. Late flowering. See colour photo, p.308, Yokoyama & Kirino, 1989, Nihon no Chinka. Discovered as a natural seedling in Kurume, Fuku'oka Prefecture, Japan in 1953 and named by Tamura, Teruo. Different reading; 'Huku-musume'.
» Chinese Description
朱國棟、蔡燦玉. 2011《台灣茶花族譜》p.103. 福娘(Fuku'oka Maiden)。(C. hybrid)红山茶。 1935,日本福冈久留米,久富正命名发表。亲不明自然实生种。半重瓣、桃色、割蕊、大轮、花期1~3月、树性直立。 福娘一杨绍溥,1978,台湾茶花,p.75, No.169.