Type Image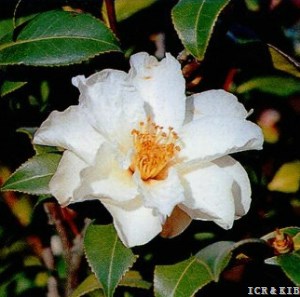 Chosen by wangzhonglang
Id:ICR-6202
Country:Japan
Year Published/Registered:1789
Cultivar Type:For Ornamental
AGM Type:
Scientific Name:Camellia x vernalis 'Ginryū'
Species/Combination:C. vernalis
Chinese Name:银龙
Japanese Name:銀竜 ぎんりゅう
Meaning:Silver Dragon
Synonym:
Dawn Sawada, Overlook Nursery Catalogue, 1933 as a sasanqua. This cultivar originated in Japan about 1896 under the name Ginryū and is a C.x vernalis and was imported into America in 1906 by the Alvin Nursery Co., Alvin, Texas under the name 'Akebono' from where it was acquired by Sawada who gave it the translated name 'Dawn'. It is not to be confused with the C.japonica Akebono. Synonym for Ginryū. Orthographic error: 'Dawon'.
Dawon Jean Lebihan, 1971, Pas de Jardin sans Camellia, 2nd. ed. p.57. Orthographic error for 'Dawn', synonym for Ginryū.
Ginriu Tokyo Nurseries Catalogue, 1896.Different reading for Ginryū.
Gin-Rye Glen St. Mary Nurseries Co. Price List, 1958, p.18. Corruption of Japanese name Gin­ryū.
Ginryō Nihon Shokubutsu Kaisha Ltd. Catalogue, 1912-1913, p.27.Different reading for Gin­ryū.
5 show +
» English Description
Shirai-Bunko, 1789, Shoshiki Hanagatachō: Pure white, semi-double to formal double, large. Tokio Nursery Catalogue, 1896, p.14 as 'Ginriu'. See colour photo, pl.24, p.9, Andoh, 1981, Tsubaki ,Meika no Shōkai to Saibai: White, sometimes suffused pink, semi-double to double. Synonyms: 'Dawn', 'Vernalis'. Different readings: 'Ginryoh', 'Ginryō', 'Ginriu'. Corruption of Japanese name: 'Gin-Rye'. Parent of Star Above Star. Chinese synonym: 'Yinlong'.
» Japanese Description
講談社 1975年 《現代椿集》 P.393  保育社 .1974年. 《つばき》安藤芳顕著 p.216. 誠文堂新光社.1998.《日本ツバキ.サザンカ名鑑》.p.298. 国立歴史民俗博物館. 2009.「冬の華・サザンカ」.P.24. 日本ツバキ協会. 2010. 《最新日本ツバキ図鑑》. p.298. 関西產. [花]白、外弁の先端と裹は桃紅色、八重、中輪、12~3月。[葉]狭長楕円、中形、黄緑色。[樹]立性、強い。[来歴]ハルサザン力。1789年の「諸色花形帳」に記載、1827年の「草木奇品家雅見」に斑人葉の図がある。写.文/箱田.
日本ツバキ協会2021《新撰サザン力名鑑》,p67 , 関西、江戸→埼玉県(川口市)産, ハルサザン力系. 花色白色、外弁の先端と裏面は桃紅色、蕾は桃色花形 14-18弁の八重、蓮華咲き、雄蕊群中に数枚の小花弁が出ることもある、中輪で花径は7-9cm 開花期12月上旬-3月花弁長倒卵形で先端凹入、内弁は細長く周縁に少し皴がある、厚弁。内弁と雄蕊基部は卜2mm合着 雄蕊20-40本で、時には60本近いこともある、花糸は淡黄色、長さで4-6群の割蕊となる。葯は橙黄色 雌蕊花柱は淡緑色、長さ16-18mmで全長の1/3—1/2が3分岐。子房は絹状毛が密生し花柱下部に及ぶこともある葉柄長さ6-7mm、成葉の葉柄や主脈はほとんど無毛葉身狭長楕円、中型の長葉、長さ6.5-7cm、幅2.5cm前後。銳尖頭で銳脚。全体に強く反曲する。葉縁には片側で24-29個の尖った鋸歯がある 葉色表面は黄緑色で時には黄斑が人る。側脈と網脈は不鮮明で裏は淡緑色 樹性立性で強い、よく分枝する。2n=45来歴 1789年の「諸色花形帳」に記載され、1827年の「草木奇品家雅見」に斑入葉の図がある古い品種で、関西や関東に古木が多い文献 1789花形帳、1827奇品家雅見* 1885日渉園、1894福井、1898 芦沢、1905Makino、1930 皆川、1970 桐野*、1998 名鑑*2010新図鑑* 所在 武蔵丘陵、小石川、神代、ぐんまFP、大島公園ほか. 写文/箱田直紀.