Type Image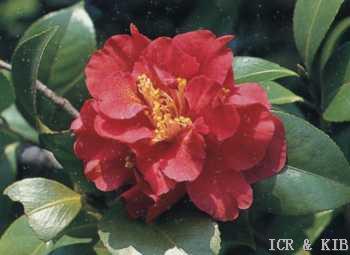 Chosen by wangzhonglang
Id:ICR-6358
Country:Japan
Year Published/Registered:1933
Cultivar Type:For Ornamental
AGM Type:
Scientific Name:Camellia sasanqua 'Godaishū'
Species/Combination:C. sasanqua
Chinese Name:
Japanese Name:五大州 ごだいしゅう
Meaning:Five continents
Synonym:
Five Continents Macoboy, 1981, The Colour Dictionary of Camellias, p.174. Synonym for Godaishū.
Godaisyu Cannon, 1984, ACS., The Camellia Journal, vol.39, No.4, p.19 as 'Godai-syu'.Different reading for Godaishū.
» English Description
Ishii, Yūgi, 1933-1934, Jissai Engei, No.15. Chabai no Hinshu Kaisetsu; Wada Nursery Catalogue, 1941, p.32: Semi-double, bright purplish red, large, autumn flowering. Originated in Japan. Different reading: 'Godaisyu'.