Type Image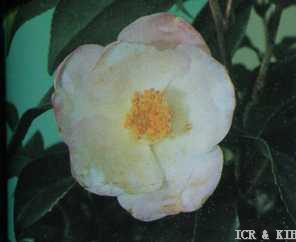 Chosen by wangzhonglang
Id:ICR-7641
Country:Japan
Year Published/Registered:1975
Cultivar Type:For Ornamental
AGM Type:
Scientific Name:Camellia japonica 'Hohobeni'
Species/Combination:C. japonica
Chinese Name:
Japanese Name:頰紅 ほほべに
Meaning:
Synonym:
Hōbeni Different reading for Hohobeni.
» English Description
Satō, 1975, Chūbu no Tsubaki, p.42 with colour photo: A single form camellia, opening to saucer-shape with 5-6 white petals with light red on the apex and reverse. Leaves, thick, broad-ovate, even, abrupt acuminate, edges obscurely crenate. Originated in Chūbu, Japan. Named and released by Minoru Satō in 1962. Different reading 'Hōbeni'.