Type Image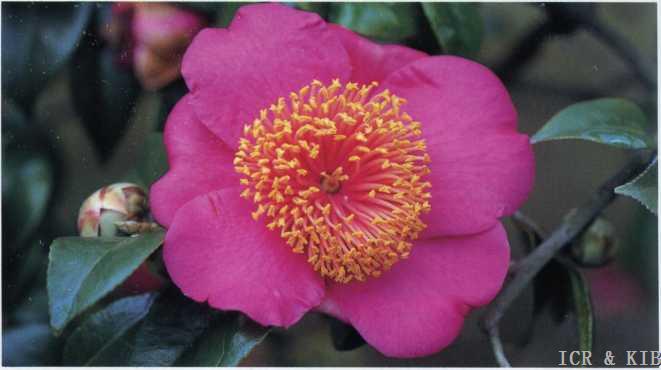 Chosen by wangzhonglang
Id:ICR-9832
Country:Japan
Year Published/Registered:1830
Cultivar Type:For Ornamental
AGM Type:
Scientific Name:Camellia 'Kōbai'
Species/Combination:Higo
Chinese Name:红梅
Japanese Name:紅梅 こうばい
Meaning:Red plum
Synonym:
Higo-kōbai Izu Ohshima, 1980, Hawaii Botanical Gardens Catalogue as 'Higokobai'. Synonym for the Higo camellia Kōbai.
Kabai ACS., 1974, The Camellia Journal, vol.29, No.1. Corruption of the Japanese name Kōbai.
Kohbai Andoh, 1974, Tsubaki Nyūmon, No.73.Different reading for Kōbai.
Red Apricot Blossom Macoboy, 1981, The Colour Dictionary of Camellias, p.138. Synonym for Kōbai.
红梅 杨绍溥,1978,台湾茶花,p.84, No.9.
» English Description
Uekiya Bunsuke Hikki, 1830: Flowers red, stamens like those of a plum flower. For colour photos see: Adachi, 1960, Camellia. Its Appreciation and Artistic..., p.67; Hirat­suka,1964, Higo Camellia, pp.8, 12; Tuyama, 1968, Camellias of Japan, pl.175; Encyclopedia of Camel­lias in Colour, vol.I, 1972, pl.19; Seibundō Shinkōsha, 1979, Senchinshū, p.53, description, p.213: Light red, Higo flower, 11 cm across, 5-6 petals with about 100 spreading, white stamens. Leaves lanceolate, shining green, decurved, acuminate apex, margins shallowly serrate. Peti­ole strongly twisted. Originated in Kumamoto Prefecture, Japan. Different reading: 'Kohbai'. Sport: Kōbai-no-zu. Corruption of Japanese name: 'Kabai'.
» Chinese Description
红梅,こうばい,'Kōbai'(Higo),陈丽惠2013年《山茶花谱台湾情》第174页,【花】:红、梅蕊、單瓣、大輪、晩生。【葉】廣橢圓、大型。橫張性。江戶末期1830 年古書即有此品種紀載。
朱國棟、蔡燦玉,2011. 《台灣茶花族譜》,p.152. Kobai红梅(Red Plum)。(Higo)肥后茶。1830,日本熊本县。单瓣、平开形、浓洋红色、花瓣5〜6枚、轮蕊、大轮(11cm)、花期2〜3月、树性横张。红梅一杨绍溥,1978,台湾茶花,p.84, No.9.