Type Image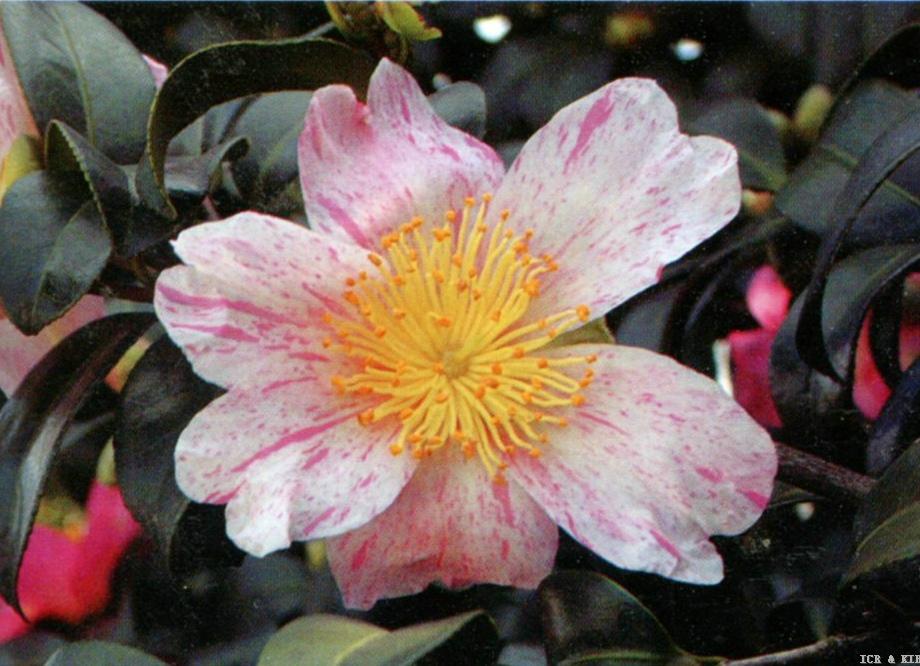 Chosen by Sueo Takano
Id:ICR-10332
Country:Japan
Year Published/Registered:1898
Cultivar Type:For Ornamental
AGM Type:
Scientific Name:Camellia x vernalis 'Kyō-nishiki'
Species/Combination:C. vernalis
Chinese Name:
Japanese Name:京錦 きょうにしき
Meaning:Kyoto brocade
Synonym:
Brocade of old Kyōto Macoboy, 1981, The Colour Dictionary of Camellias, p.138. Synonym for Kyō­nishiki.
Kyoh-nishiki Andoh, 1971, Tsubaki, Meika no Shōkai to Saibai p.213.Different reading for Kyō-nishiki.
Kyomski Lort-Phillips, 1970. International Camellia Journal. Corruption of the Japanese name Kyō-nishiki.
Kyō-nishiki (Kyōto Brocade), Minagawa, 1949, Chinkashū; Encyclopedia of Camellias in Colour, vol.I, 1972, p.363. Single, campanulate flowers of medium size. Purple red stripes and small spots on white ground, or dark red. Stamens like a tea whisk. Flowers mid-season. Leaves are yellowish green. Originated by Minagawa, Jisuke, Kantō, Japan. The Higo and vernalis camellias of the same name are different cultivars. To avoid confusion the names Kantō-­kyōnishiki and Higo-kyōnishiki are now used and the name Kyō-nishiki is reserved for the vernalis cultivar. Seibundō Shinkōsha, 1979, Senchinshū, p.40 and Yokoyama & Kirino, 1989, Nihon no Chinka, p.259 both list this camellia as 'Kantō-kyōnishiki'. According to Andoh, this is a seedling of Kokinran.
Kyōto-nishiki Wada, 1941, Japanese Garden Treasures, p.32 in autumn flowering sasanquas as 'Kyuto-nishiki': A corrupted name for Kyō-nishiki.
1 show +
» English Description
Ashizawa, Yagorō, 1898, Chabaika Taishū describes this as a single, medium sized, striped. Chūgai, Nursery Co. Catalogue, 1935-1936, p.26 under Sasan­qua: Red, vertical variegation. McIlhenny 1937, 600 Varieties of Camellias has "rose red to white at base"; while Yashiroda, 1950, American Camellia Yearbook, p.16 has "White with a few broad, pink bands, round edged petals, spreading growth and slender twigs." For colour photo see Encyclopedia of Camellias in Colour, vol.I, 1972, pl.559. Originated in Japan. Corruption of the name: 'Kyuto-nishiki', 'Kyomski'.