Type Image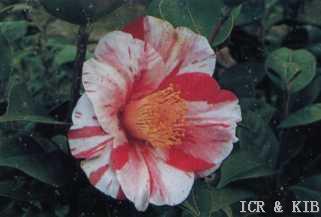 Chosen by wangzhonglang
Id:ICR-10321
Country:Japan
Year Published/Registered:1972
Cultivar Type:For Ornamental
AGM Type:
Scientific Name:Camellia japonica 'Kyokkō'
Species/Combination:C. japonica
Chinese Name:
Japanese Name:旭光 きょっこう
Meaning:Light of the rising sun
Synonym:
Kijokko Vanderbilt, 1940, Camellia Research, p.5. Corruption of Japanese name Kyokkō.
Kyokkoh Andoh, 1974, Tsubaki Nyumon, p.56.Different reading for Kyokkō.
Nagoya-kyokkō (Rays of Rising Sun at Nagoya), Yokoyama, 1975, Gendai Tsubaki Meikan, p.176: Large sized white, semi-double with pink and red stripes and dashes. Central, small, stamen cluster. Petals, large, overlapping in 3 rows. Synonym for Kyokkō.
» English Description
Encyclopedia of Camellias in Colour, vol.1, 1972, p.367: Vermilion red, large size, peony form, late flowering. Originated on Shikoku Island, Japan.