Type Image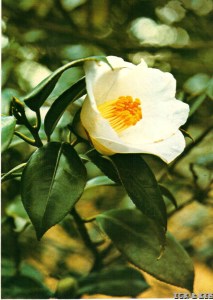 Chosen by wangzhonglang
Id:ICR-17697
Country:Japan
Year Published/Registered:1895
Cultivar Type:For Ornamental
AGM Type:
Scientific Name:Camellia japonica 'Shiratama'
Species/Combination:C. japonica
Chinese Name:白玉
Japanese Name:白玉 しらたま
Meaning:White Bead
Synonym:
Chibahaku Yashiro, 1841, Kokon Yōrankō.Different reading for 'Senyōhaku' as synonym for Shiratama.
Egret Hearn Catalogue, 1858. Synonym for Shiratama. This is the Californian variety and there is further confusion as this does not match the description of the valid Japanese Shiratama which is a single white.
Hearn's Egret Griffiths & Strother, 1954, ACS., Nomenclatural Cross-reference List. Synonym for Shiratama.
Shiratama-tsubaki Chidamian, 1953, American Camellia Yearbook, p.163. Synonym for Shiratama.
Shirotama Fendig, 1951, American Camellia Catalogue.Different reading for Shiratama.
4 show +
» English Description
Yokohama Nursery Co. Ltd. Catalogue, 1895: Double, white ball. Note: This appears to be the origin of Shiratama as it is known in the West. According to SCCS., 1950. The Camellia. Its Culture and Nomenclature, p.60 as 'Shirotama' its description is: White. Medium sized, rose form to formal double. Vigorous, open, upright, growth. Midseason blooming. However, in Japan 'Shiratama' is a white single, never double. Synonyms: 'Egret', 'Hearn's Egret', 'Abundance', 'Senyōhaku'. Yashiro, 1841, Kokon Yōrankō cites Honzō Kōmoku Keimō 1803 as giving Senyōhaku as a synonym. Different readings: 'Shirotama', 'Tamashiro'. See p.327, Hertrich, 1954, Camellias in the Huntington Gardens, vol.I.
» Chinese Description
朱國棟、蔡燦玉,2011. 《台灣茶花族譜》,p.241.
Shiratama白玉(White Bead)。(C. japonica)红山茶。1829,日本京都。单瓣、杯状、白色、小轮、花期10~2月、花蕾圆头为其特征、树性直立、长势强。别名:Hatsu-arashi (初风)。
白玉一杨绍溥,1978,台湾茶花,p.75, No.176.