Type Image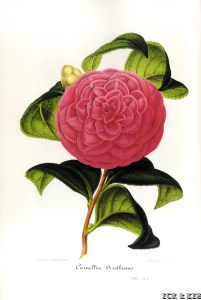 Chosen by Gianmario Motta
Id:ICR-707
Country:Belgium
Year Published/Registered:1855
Cultivar Type:For Ornamental
AGM Type:
Scientific Name:Camellia japonica 'Arethusa'
Species/Combination:C. japonica
Chinese Name:
Japanese Name:
Meaning:
Synonym:
Aretusa Scarlatti Catalogue, 1891-1892. Orthographic error for Arethusa.
» English Description
Verschaffelt, 1855, Nouvelle Iconographie, Book XI, pl.III: Mr Van Geersdale of Ghent, Belgium, who sent it to us and informed us it was of Italian origin. The perfect imbrica­tive form of its blooms, larger than average, the numerous, rounded petals which compose them and their ruddy, uniform rose colour are pleasing qualities. Orthographic error: 'Are­tusa'.