Type Image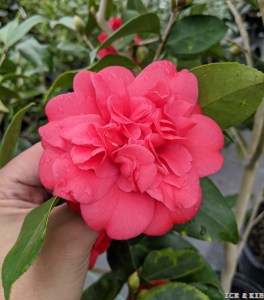 Chosen by Gianmario Motta
Id:ICR-891
Country:United States
Year Published/Registered:1941
Cultivar Type:For Ornamental
AGM Type:
Scientific Name:Camellia japonica 'Aunt Jetty'
Species/Combination:C. japonica
Chinese Name:洁蒂阿姨
Japanese Name:
Meaning:
Synonym:
Esagona Rubra Franchetti, 1855, Collezione di Camelie, p.29. Orthographic error for 'Hexagona Rubra'.
Governor Mouton Red Sharp, 1948, Camellias Illustrated, p.124, 128. Synonym for Aunt Jetty.
Hexagona Rubra Thomasville Nursery Catalogue, 1942, p.10. Synonym for Aunt Jetty.
Mrs Howard Gamble Lewis, 1954, American Camellia Yearbook, p.234. Synonym for Aunt Jetty.
Red Governor Mouton Valley Garden Supplies Catalogue, 1946-1947. Synonym for Aunt Jetty.
» English Description
Thomasville Nursery Catalogue, 1941: This marvellous red camellia has all the good characteristics of the well known Governor Mouton and is a solid red sport of that variety. The foliage is smooth, dull green and sharply pointed. The growth is slender and wil­lowy if grown in the shade but more sturdy if grown in the sun. Blooms mid-season to late. The parent plant is believed to be about 170 years old. See colour plates p.23. Camellias by G.G. Gerbing, 1945, and in Humes, Camellias in America, 1946, p.5. Synonyms: 'Red Governor Mou­ton', 'Hexagonia Rubra'.