Type Image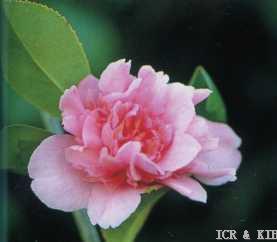 Chosen by wangzhonglang
Id:ICR-1777
Country:Japan
Year Published/Registered:1967
Cultivar Type:For Ornamental
AGM Type:
Scientific Name:Camellia rusticana 'Bojō'
Species/Combination:C. rusticana
Chinese Name:
Japanese Name:慕情 ぼじょう
Meaning:
Synonym:
Bojoh Andoh, 1971, Tsubaki, Meika no Shōkai to Saibai, p.217.Different reading for Bojō.
» English Description
Hagiya, 1967, Kyōto Engei Kurabu, Tsubaki Tokushū, p.15, black and white photo; Seibundō Shinkōsha, 1979, Senchinshū, p.141, colour photo, p.248, description: A pale, peach pink, peony form bloom, very irregular with 7-13 large, irregular outer petals with the centre a mass of about 130 twisted, curled and erect petals and petaloids mixed with sta­mens. Flower size 7-9 cm in diameter. Mid-season flowering. Leaves, medium size, coarsely serrate, elliptic; acuminate apex, mid-green, petioles tomentose. Plant has a bushy, dwarf, spreading habit. Collected in the Kajikawa Village, Kita-kanbara-gun, Niigata Prefecture, Japan by Susumu Ishizawa. Named and released by Kaoru Hagiya. Different Reading: 'Bojoh'.