Type Image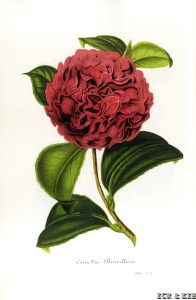 Chosen by Gianmario Motta
Id:ICR-1978
Country:Italy
Year Published/Registered:1851
Cultivar Type:For Ornamental
AGM Type:
Scientific Name:Camellia japonica 'Brunellesca'
Species/Combination:C. japonica
Chinese Name:
Japanese Name:
Meaning:
Synonym:
Brumelliensis Hazlewood & Jessep, 1972, Checklist - Camellia Cultivars from Nursery Catalogues, p.30. Orthographic error for Brunellesca.
Brunelesca van Biedenfeld, 1856, Practische Grundlehren der Cultur von Camellien, p.34. Orthographic error for Brunellesca.
» English Description
Luzzatti, 1851, Collezione di Camelie, p.8: Flower the shape of the tree peony, forming a large sphere, full, colour bluish. For illustration see Verschaffelt 1855, Nouvelle Icono­graphie, Book II, pl.IV: A maroon red, ball-like mass of numerous, twisted, folded, ruffled petals, somewhat similar to Madame Picouline. Originated in Italy by Carlo Luzzatti, Flo­rence. Orthographic errors: 'Brunelesca', 'Brumelliensis'.