Type Image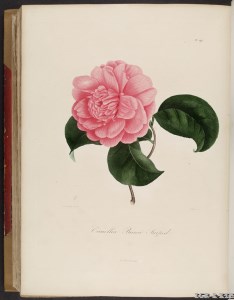 Chosen by Gianmario Motta
Id:ICR-2025
Country:Italy
Year Published/Registered:1843
Cultivar Type:For Ornamental
AGM Type:
Scientific Name:Camellia japonica 'Burcii Striped'
Species/Combination:C. japonica
Chinese Name:
Japanese Name:
Meaning:
Synonym:
Bureii Striped Verschaffelt Catalogue, No.50, 1844, p.18. Orthographic error for Burcii Striped.
» English Description
Berlèse, 1843, Iconographie, vol.2, pl.193: Flower, 10-11 cm across, occasionally larger. The corolla is peony form, irregular, pale red, almost delicate rose, veined deep red. The exterior petals in many rows are 4-5 cm broad, rounded-ovate, the other are rather long, more or less notched, reflexed, the others shell-like, deep rose with numerous veins of red and very showy. Orthographic error 'Bureii Striped'.