Type Image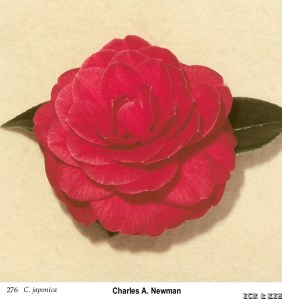 Chosen by wangzhonglang
Id:ICR-2546
Country:Australia
Year Published/Registered:1981
Cultivar Type:For Ornamental
AGM Type:
Scientific Name:Camellia japonica 'Charles A. Newman'
Species/Combination:C. japonica
Chinese Name:
Japanese Name:
Meaning:
Synonym:
Charles Newman Cannon, 1985, ACS, The Camellia Journal, vol.40, No.4, p.13. Abbreviation for Charles A. Newman.
» English Description
ACRS., 1981, Camellia News, No.79, p.28, Reg. No. 276: Originated by C.A. Newman, Bayswater, Western Australia. A chance seedling planted 1970, first bloomed 1975. Plant is upright, dense, with dark green foliage with medium size, ovate leaves. The formal double, dark red with deeper veining is 7.5 cm in diameter. Flowers mid-season to late. Abbreviation: 'Charles Newman'.