Type Image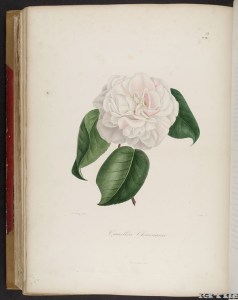 Chosen by Gianmario Motta
Id:ICR-2975
Country:Belgium
Year Published/Registered:1836
Cultivar Type:For Ornamental
AGM Type:
Scientific Name:Camellia japonica 'Clowesiana'
Species/Combination:C. japonica
Chinese Name:
Japanese Name:
Meaning:
Synonym:
Clawesiana Jacob Makoy Catalogue, 1838. Believed to be an orthographic error for Clowesiana.
Clawsiana Mertens & Fontaine Catalogue, 1845, p.136, ph. f. p.13. Orthographic error for Clowesiana.
Clovesiana Franco Agostoni, 1844, Catalogo Plantarum... Orthographic error for Clowesiana.
Fanni Ester Isola Madre Catalogue, 1845. Orthographic error for 'Fanny Essler', synonym for Clowesiana.
Fanny Ellster Burdin Maggiore & Co. Catalogue, 1886. Orthographic error for 'Fanny Essler', syn­onym for Clowesiana.
10 show +
» English Description
Jacob Makoy Catalogue, 1836, p.15. No description. Berlèse, 1843, Iconographie, vol.2, pl.189: Flower about 10 cm across. The corolla is full, irregular, very packed, cupped, flared, convex, white becoming rosy, flesh pink in the centre. The first 2 or 3 rows of petals are broad and long, displayed horizontally, a little reflexed, sometimes notched, sometimes with lines and bands of pink; those following are unequal, deformed, large as those preceding, but confused; the others of lesser dimensions, grouped irregularly in fascicles and forming a kind of cup; finally those in the other rows are large, concave or channelled, close set, numerous, imbricated vertically and forming a centre of a kind of vase, hollowed out, and at the heart a glimpse of 2 or 3 petaloids, erect and greenish. Synonyms: 'Marochetti', 'Fanny Essler', 'Fanny Essler de Gand', 'Fanny Eslers', 'Fany Esler Vera'. Orthographic errors: 'Clovesiana', 'Clovvesiana', 'Clawesiana', 'Clawsiana'. Originated in Belgium.