Type Image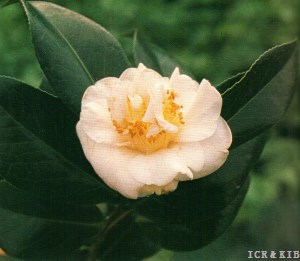 Chosen by wangzhonglang
Id:ICR-9143
Country:Japan
Year Published/Registered:1975
Cultivar Type:For Ornamental
AGM Type:
Scientific Name:Camellia rusticana 'Kaga-koshimino'
Species/Combination:C. rusticana
Chinese Name:加贺腰簑
Japanese Name:加賀腰蓑 かがこしみの
Meaning:
Synonym:
加贺腰みの 蔡福貴,2005,世界茶花专辑,p. 156, No.31.
» English Description
Yokoyama, 1975, Gendai Tsubaki Meikan, p.86, black and white photo and description. Seibundō Shinkōsha, 1979, Senchinshū, p.31, colour photo, p.206: A soft, apricot pink, open, peony form with two rows of imbricated petals surrounding a centre of intermingled stamens and erect, fluted and folded petals. Leaves lanceolate, apex long-tapering acuminate, dark green, margins serrate. Early flowering. Origi­nated with an old family in Unoki-chō, Ishikawa Prefecture, Japan. Named and released by Ryōji Nakamura in 1972.
» Chinese Description
朱國棟、蔡燦玉,2011. 《台灣茶花族譜》,p.145. Kaga-koshimino 加贺腰簑('Koshimino' from Koga)。(C. rusticana)雪茶。1975,日本石川县。民家栽培种,1972年,中村良一郎命名发表。二段〜牡丹形、白色、割蕊、中轮、花期12〜3月、树性直立、长势強。蔡福貴,2005,世界茶花专辑,p. 156, No.31.