Type Image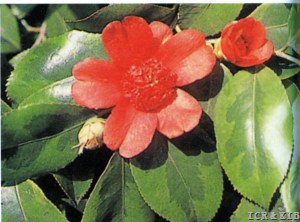 Chosen by wangzhonglang
Id:ICR-9595
Country:Japan
Year Published/Registered:1859
Cultivar Type:For Ornamental
Scientific Name:Camellia japonica 'Kifukurin-benikarako'
Species/Combination:C. japonica
Chinese Name:黄覆轮红唐子
Japanese Name:黄覆輪紅唐子 きふくりんべにからこ
Meaning:Yellow Boardered, Red Anemone
Synonym:
Fukurin-benikarako Williams & Thompson, 1950, Star Camellia Nursery, American Camellia Yearbook, p.41. No description. However from the name, "Fukurin" = ornamental border; "beni" = red; and "karako" = a tight anemone centre. This cultivar was imported from Japan to Califor­nia by Mr Uyematsu of the Star Nursery in 1930. The name is a synonym for Kifukurin-benikarako.
» English Description
Kasuya, Kamegorō, 1859, Tsubaki Irohanayose Irotsuki, in the section for variegated leaves; Itō, Ko'emon, 1879, Chinkashū: Yellowish variegated leaf, anemone form. See colour plates: Tuyama, 1966, Camellia Cultivars of Japan, pl.39. Andoh, 1971, Tsubaki, Meika no Shōkai to Saibai, pl.l22; Encyclopedia of Camellias in Colour, vol.I, 1972, pl.450; Seibundō Shinkōsha, 1979, Senchinshū, p.42, description, p.210: Small, red, anemone form, with 5 outer petals and compact cushion of small, folded petaloids. Foliage ovate, apices blunt acute, margins serrulate, variegated yellowish green on mid-green. Originated in Kantō area, Japan. Sport of Benikarako. Different reading: 'Kihukurin-benikarako'. Synonym: 'Fukurin-benikarako'.