Type Image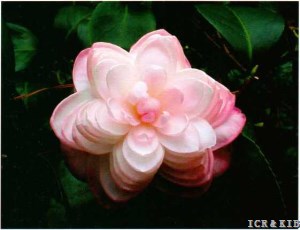 Chosen by wangzhonglang
Id:ICR-14067
Country:United States
Year Published/Registered:1982
Cultivar Type:For Ornamental
AGM Type:
Scientific Name:Camellia japonica 'October Affair'
Species/Combination:C. japonica
Chinese Name:十月韵事
Japanese Name:
Meaning:
Synonym:
Shiyue Yunshi Gao, Jiyin, 2007, The Identification....Outstanding Camellias, p.405. Chinese synonym for the USA C.japonica October Affair.
» English Description
American Camellia Yearbook, 1982, p.177, Reg. No.1776: (60AG18). A medium, light cream shading to deep pink on the edges, formal double C.japonica (Berenice Boddy x 'Yoheihaku'). Blooms early to mid-season. Originated by Dr Clifford Parks, North Carolina, USA. The 16 year old seedling first bloomed 1975. Flower size 8-10 cm across x 3.7 cm deep with 100 petals. Plant growth is upright and average with dark green leaves. Chinese synonym 'Shiyue Yunshi'.
» Chinese Description
高继银、苏玉华、胡羡聪,2007. 《国内外茶花名种识别与欣赏》,第172页。美国北卡罗来纳州C.R.Parks博士培育,系'伯尼斯鲍地'(Berenice Boddy)品种和'九月之晨'(September Mom)品种之杂交种。花淡奶白色,花瓣边缘和花心部分为粉红色,完全重瓣型,中型花,花瓣100多枚,长圆形,边缘略内卷,排列整齐,层叠,呈六角形,花朵稠密。叶片浓绿色,椭圆形,光亮,植株立性,生长旺盛。花期早至中。