Type Image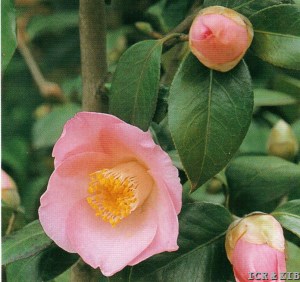 Chosen by wangzhonglang
Id:ICR-17647
Country:Japan
Year Published/Registered:1971
Cultivar Type:For Ornamental
AGM Type:
Scientific Name:Camellia japonica 'Shin-tsukimiguruma'
Species/Combination:C. japonica
Chinese Name:新月见车
Japanese Name:新月見車 しんつきみぐるま
Meaning:New'Tsukimiguruma'
» English Description
Andoh, 1971, Tsubaki, Meika no Shōkai to Saibai, pl.132, p.45, description, p.211: Large, single, soft pink, with colour fading towards the haft of the petals to the number of 6-7, broad, rounded, overlapping to open cup-shaped; sta­mens in central column, anthers golden, filaments very pale cream. Mid-season to late flower­ing. Originated in Kantō area, Japan by Minagawa Chinka'en Nursery. See: Seibundō Shinkōsha, 1980 Senchinshū, pp.79, 223. Yokoyama & Kirino, 1989, Nihon no Chinka, p.131.
» Chinese Description
朱國棟、蔡燦玉,2011. 《台灣茶花族譜》,p.241. Shin-tsukimiguruma 新月见车(New'Tsukimiguruma')。(C. japonica)红山茶。1971,日本埼玉县。单瓣、筒~喇叭形、粉红色、花瓣6~7枚、筒蕊、中~大轮、花期1~3月、树性稍微横张。新月见车一蔡福贵,2005,世界茶花专辑,p.81. No.146.图129.