Type Image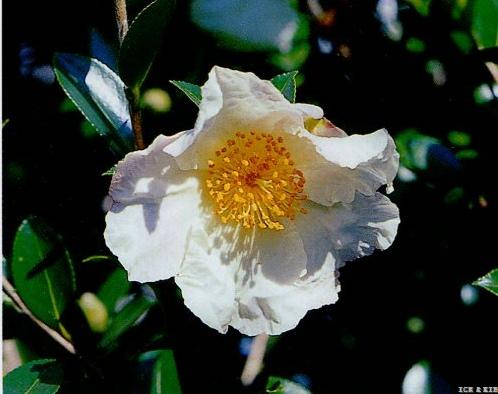 Chosen by Sueo Takano
Id:ICR-19896
Country:Japan
Year Published/Registered:1898
Cultivar Type:For Ornamental
AGM Type:
Scientific Name:Camellia sasanqua 'Tsurugi-no-mai'
Species/Combination:C. sasanqua
Chinese Name:鹤木之舞
Japanese Name:剣の舞 つるぎのまい
Meaning:Sword dance
Synonym:
Ken-no-mai Wada 1941, Garden Treasures of Japan, p.31:Different reading for Tsurugi-no-mai.
Tsurigi-no-ma Fendig, 1953, American Camellia Catalogue. Corruption of Japanese name Tsurugi-no-mai.
靱の舞 日本ツバキ協会2021《新撰サザン力名鑑》,p102. 写文/箱田直紀,元:江戸→埼玉県(川口市)サザン力系.
» English Description
Ashizawa, Yagorō, 1898, Chabaika Taishū; Wada, 1941, Garden Treasures of Japan, p.31, as 'Ken-no-mai': Medium size, resembling Kenkyō, but smaller, with shorter petals; vigorous spreading growth; single, late bloomer. Leaves light green, slightly cupped. See colour photo, pl.42, p.122, Tuyama, 1979, Ishii's Selected Japanese Camellias, including Sasanquas as 'Tsuruginomai'. See also Seibundō Shinkōsha, Dec.1973, Gar­den Life, p.44. JCS., 1989, Tsubaki, No.26, p.47. Originated in Kantō area, Japan. Yashiroda, 1950, American Camellia Yearbook, p.15; Ishii, 1950, Engei Jiten, vol.2. Different reading 'Ken-no-mai'.
» Japanese Description
誠文堂新光社.1998.《日本ツバキ.サザンカ名鑑》.p.307. 国立歴史民俗博物館. 2009. 《冬の華・サザンカ》. p.13. 江戸產. [花]白色、一重、抱え咲き、中輪、11~12月 [葉]盃状、[樹]   [来歴]1898年の芦沢「茶梅花大集」に記載され埼玉県安行に残る。田子の月に似るが開花期が晩い   写文/箱田.
日本ツバキ協会2021《新撰サザン力名鑑》,p102. 江戸→埼玉県(川口市)産,サザン力系. 花色白花であるが外弁2〜3枚の先端に紅桃色が残る 花形 6-7弁の一重、抱え咲き、中輪で花径は8cm前後 開花期 11月中下旬-12月のやや晚咲き 花弁 広倒卵形で弁端凹入、弁縁には皺が多い 雄蕊 81-100本、花糸は淡黄色で長さ12-14mm、はじめは基 部で3-5mm合着しているが分離して散る。葯は濃黄色雌蕊 花柱は淡緑色、長さ11-12mmで基部近くまで3分岐して 開く。子房表面には絹状毛が多く、花柱は無毛 葉柄 長さ5-6mm、葉柄から表面主脈中部にかけて有毛で、裏 面主脈は無毛または微毛がある 葉身倒卵状の長楕円形、中葉、 長さ5-6cm、幅2.5-3cm。鈍頭で鈍脚。ほとんど中折れせず、 反曲も少なく、時には盃状に上に反る。葉縁には片側で20-22 個の尖った細鋸歯がある 葉色表面は濃黄緑色、側脈と網脈は やや鮮明で裏面は淡緑色 樹性立性で強い、よく分枝する 来歴 1898年の芦沢「茶梅花大集」に記載があり、皆川椿花園に 保存されてきた、花、葉ともに'田子の月'に似るが開花期がよ り晚い^ 文献 1898芦沢、1934皆川、1936山田* 1965中村、 1998名鑑* 2001冬の華* 2003ぐんま*所在 農工大、花卉研、FS箱田、浜松FP 写文/箱田直紀