Type Image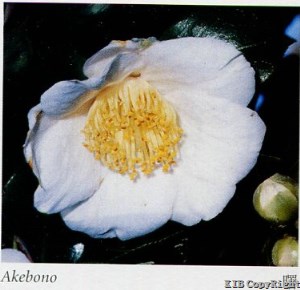 Chosen by Gianmario Motta
Id:ICR-22819
Country:United States
Year Published/Registered:1931
Cultivar Type:For Ornamental
AGM Type:
Scientific Name:Camellia japonica 'Akebono'
Species/Combination:C. japonica
Chinese Name:拂晓红
Japanese Name:曙 あけぼの
Meaning:Dawn
Synonym:
Bonnie Jean Camellia Digest, 1943, 1(3). Synonym for 'Akebono Pink' as Akebono.
Shin-Ake'bono Burncoose & Southern Nursery Catalogue, 1985. Synonym for Akebono.
Shino-Akebono Starling, 1987-1988, RHS., Rhododendrons with Magnolia and Camellias, p.74. Orthographic error for 'Shin-akebono', synonym for Akebono.
Sino Akebono Wall Cottage Nursery Catalogue, 1982, p.5. Orthographic error for 'Shin-akebono' (Akebono).
曙 杨绍溥,1978,台湾茶花,p.68, No.77
» English Description
Minagawa, 1931, Chinkashū; Wada, 1941, Japanese Garden Treasures, p.28: Single, widely opened, large flowers, very pale, flesh pink, slightly paler at edge and base, a leafy, compact grower; early blooming. Tuyama 1966, Camellia Cultivars of Japan, pl.98, p.166; Tuyama, 1968, Camellias of Japan, pl.84, p.111: Light pink, medium size, single, 6-8 petals, cupped form, large cylindrical stamen cluster, a little spreading, filaments light yellow. Early flowering. Introduced to USA where its translated name 'Dawn' was invalidly used as a synonym, causing confusion with the C.x vernalis 'Ginryu', which was also known as 'Dawn'. See 'Dawn' for details. In the USA the name 'Akebono' was given to another cultivar, originally listed as 'Akebono Pink'. The true Akebono was then given the synonym 'Shin-akebono' to distinguish it from the invalidly named 'Akebono'. For colour plates of the valid Akebono see: Encyclopedea of Camellias in Colour, vol.I, 1972, pl.43, p.52. Seibundō Shinkōsha, 1979, Senchinshū, p.9. Originated in Kyōto Prefecture, Japan. It is the seed parent of Showa-no-akebono. Chinese synonym: 'Fuxiaohong'. Resembles Tarō'an but flowers are larger and more widely open.
» Chinese Description
曙,あけぼの,'Akebono'(C. japonica),陈丽惠2013年《山茶花谱台湾情》第186页,【花】:淡粉、單瓣、大輪、早~中生。【叶】椭圓、中型。立性、強健。江戸時京都古木。
朱國棟、蔡燦玉,2011. 《台灣茶花族譜》,p.9. Akebono 曙(Dawn)。 C. japonica Akebono曙(Dawn)。(C. japonica)红山茶。1931,日本关西。单瓣、碟形、极淡粉、大轮、花瓣6〜8枚、筒蕊、圆头形花蕾、花期11〜2月、树性直立、长势强。3倍体品种。别名:Sin-akebono (新曙)。曙一杨绍溥,1978,台湾茶花,p.68, No.77. Akebono-fuji (あけぼの富士)一 Hakoda, JCS, 1987,椿• Asakura (朝仓)的同种异名。