Type Image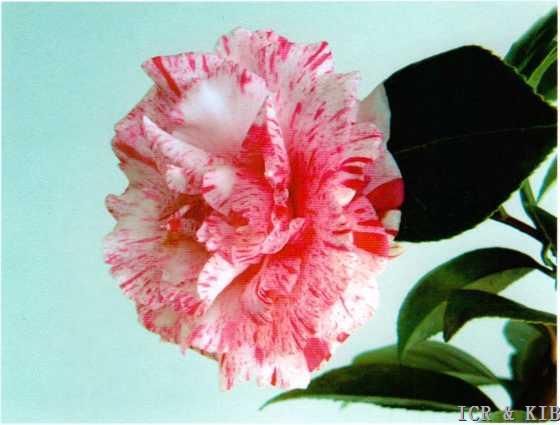 Chosen by wangzhonglang
Id:ICR-22840
Country:Japan
Year Published/Registered:1957
Cultivar Type:For Ornamental
AGM Type:
Scientific Name:Camellia rusticana 'Aki-no-homare'
Species/Combination:C. rusticana
Chinese Name:秋之誉
Japanese Name:秋の誉 あきのほまれ
Meaning:
Synonym:
Aki-no-homare(Chūbu) Synonym for Aki-no-homare.
Qiuzhiyu Gao, Jiyin, 2007, The Identification....Outstanding Camellias, p.420. Chinese synonym for the Japan C.japonica Aki-no-homare.
» English Description
Katayama, Sadayuki, 1957, Tusbaki Ochabana; Yokoyama, 1975, Gendai Tsubaki Meikan, black and white photo, p.61; Encyclopedia of Camellias in Colour, vol.II, 1978, colour photo No.435, p.172; Seibundō Shinkōsha, 1979, Senchinshū, p.9, colour photo, description, p.197: Flower: white background with various sized vertical stripings of pale red, mutates to self red or red with white spots; outer petal rows imbricated; the centre consists of scattered fascicles of stamens mixed with small, erect petals. The flower is 11-13 cm across and opens early to mid-season. Leaves: Light green, medium sized, elliptical with acute apex and base, sharply serrate, leaf stalk hairy. Strong, erect, densely furnished growth. The cultivar, Gondō-shibori, also known as 'Aki-no-homare' in Kansai is a different cultivar. Originated in Chūbu, Japan. Synonym: 'Aki-no-homare (Chūbu)'. A chance seedling originated and released by Kōji Yamada in 1969.
» Chinese Description
高继银、苏玉华、胡羡聪,2007. 《国内外茶花名种识别与欣赏》,第28页。日本爱知县一带。花白色,有大量纵向排列的红条纹和斑点,牡丹型,大型花,最大花径偶尔可达到13cm,外轮花瓣宽圆形,覆瓦状排列,中部花瓣半直立,边缘波浪状,略内扣,花心有少量雄蕊外露,花朵稠密。叶片淡绿色,长椭圆形,光亮,植株开张,生长旺盛。花期早至中。