Type Image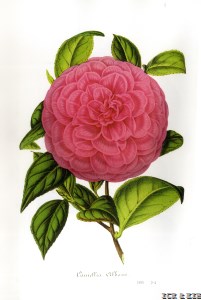 Chosen by Gianmario Motta
Id:ICR-154
Country:Italy
Year Published/Registered:1853
Cultivar Type:For Ornamental
AGM Type:
Scientific Name:Camellia japonica 'Albani'
Species/Combination:C. japonica
Chinese Name:
Japanese Name:
Meaning:
Synonym:
Abani Auguste van Geert, 1863-1864, Catalogue, No.54, p.32. Orthographic error for Albani.
» English Description
Luzzatti Catalogue, 1853. No description. Verschaffelt, 1860, Nouvelle Iconographie, Book III, pl.IV: The blooms are of the largest size, 11-12 cm across. A pink colour, almost red at the centre, each petals being a deeper tint at the base and striped and veined the same shade. The petals are rounded and slightly bilobate at the apex, all imbricated with the utmost regularity. Orthographic error: 'Abani'. Originated in Italy.