Type Image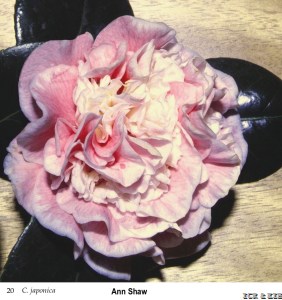 Chosen by wangzhonglang
Id:ICR-490
Country:Australia
Year Published/Registered:1957
Cultivar Type:For Ornamental
AGM Type:
Scientific Name:Camellia japonica 'Ann Shaw'
Species/Combination:C. japonica
Chinese Name:
Japanese Name:
Meaning:
Synonym:
Anne Shaw Hazlewood & Jessep, 1972, Checklist - Camellia Cultivars from Nursery Catalogues, p.11. Orthographic error for Ann Shaw.
» English Description
Jessep, 1957, ACRS, Camellia Annual, No.4, p.7. Reg. No.20: Originated by Mrs Shaw about 65 years ago at Bayswater, N.S.W., Australia. The plant still exists and bears white flowers with slight pink streaks and several branches with full informal double flowers, pink, edged white in the manner of Lady Loch, but flatter in the centre where the petals are very twisted and crowded. This pink form is registered by Mr. J. Shaw in the name of his mother who raised it as a seedling. It has been confused with Lady Loch. Orthographic error; 'Anne Shaw'.