Type Image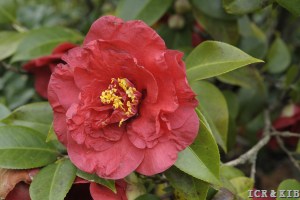 Chosen by Gianmario Motta
Id:ICR-1108
Country:United States
Year Published/Registered:1946
Cultivar Type:For Ornamental
AGM Type:
Scientific Name:Camellia japonica 'Barbara Morgan'
Species/Combination:C. japonica
Chinese Name:
Japanese Name:
Meaning:
Synonym:
Niger Red Fendig, 1953, American Camellia Catalogue. Synonym for Barbara Morgan.
» English Description
Fruitland Nursery Catalogue, 1946-1947, p.29; Fendig, 1952, American Camellia Catalogue: Large, oriental red, incomplete double, sometimes semi-double, 11.5 cm across by 4.5 cm deep; petals crinkled, standing apart, about 5.5 cm in width. Filaments pink, anthers yellow. Leaves mid-green, oval, 7.5 cm x 4 cm, texture thick, centre vein light green, ser­rations obscure. Vigorous, bushy growth. A "Tea Garden" import from Europe with a lost label. Named by the proprietor of the Carolina Floral Nursery for his granddaughter. Syn­onym: 'Nigger Red'. Sport: Barbara Morgan Variegated.