Type Image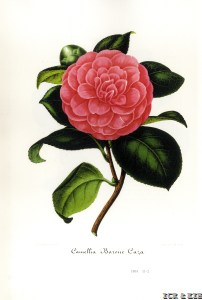 Chosen by Gianmario Motta
Id:ICR-1142
Country:Italy
Year Published/Registered:1854
Cultivar Type:For Ornamental
AGM Type:
Scientific Name:Camellia japonica 'Barone Caza'
Species/Combination:C. japonica
Chinese Name:
Japanese Name:
Meaning:
Synonym:
Baroness Casa Vanderbilt, 1940, Camellia Research, p.2. Orthographic error for Barone Caza.
Baronne Caza Azalea and Camellia Society of America Yearbook, 1933, Orthographic variant for Barone Caza.
» English Description
Verschaffelt, 1854, Nouvelle Iconographie, Book XI, pl.II: Three or four years ago this Camellia was received from Italy. It deserves to be cultivated on account of its blos­soms of medium size, of a vivid pink, occupying a middle place between imbricates and peony form. The large petals are somewhat irregular, some oval or rounded, others oblong, all emarginate or sub-mucronate. The effect is a full-bodied bloom set off by the oval, lanceolate bright green foliage. Orthographic variant: 'Baronne Caza', 'Baroness Casa'.